When I first came to Bordeaux (quite some time ago…) there were said to be two hot appellations, ones on the up-and-up that would surely be making more sought-after, more expensive wines in the future. These were Fronsac and Castillon. While neither has really taken off like a rocket, I think that Castillon has probably fared better than Fronsac. The relative production figures may have something to do with this, since Castillon Côtes de Bordeaux (the full name since 2009) has about 1,800 hectares of vines while Fronsac has 800 and Canon-Fronsac just 250. But that is not the only reason. Fronsac wines have a tendency towards a certain hardness in their youth whereas Castillon wines are generally softer and more approachable young.
In fact, geologically speaking, Castillon is very much a continuation of Saint-Emilion.
The Domaine de l'A is located in the commune of Sainte Colombe on the border with Saint Emilion, with crus classes Faugères and Valandraud as immediate neighbors. The estate is the creation of Christine and Stéphane Derenoncourt, who started off with just two hectares in 1999 purchased thanks to a crowdfunding project. The estate now comprises 12 hectares.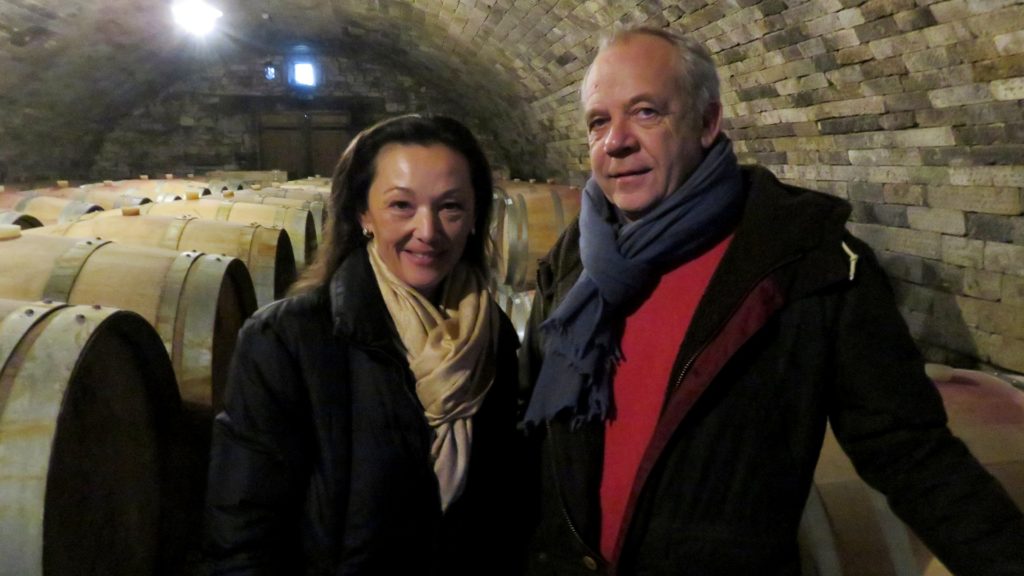 Stéphane Derenoncourt is an atypical figure on the Bordeaux wine scene. He comes from a working class family in Dunkirk and arrived in Bordeaux more or less by accident. Starting out as a vineyard worker, he graduated to winemaking consultant for such estates a Pavie Macquin, Canon la Gaffelière, and La Mondotte before starting his own consultancy firm in 1999. He has no formal training in enology, but an expertise acquired from years of experience. He is probably the most famous consultant in Bordeaux after Michel Rolland and now works with 70 Bordeaux châteaux, 20 properties elsewhere in France, and 20 others internationally.

However, Stéphane is definitely happy to have his own vineyard. It helps keep his feet on the ground and empathize with other vineyard owners.
Where does Domaine de l'A get its unusual name from? The story goes that when Christine and Stéphane Derenoncourt sat down to try to find one, several suggestions batted around started with the letter "A", not least of which was "amour". "A" is also the first letter of the alphabet, which went along with the new beginning…
The soil at Domaine de l'A consists of clay overlaying friable limestone and decomposed limestone. Grape varieties consist of 80% Merlot and 20% Cabernet Franc. Vine density is 6,500 per hectare. The average age of the vines is 40 years.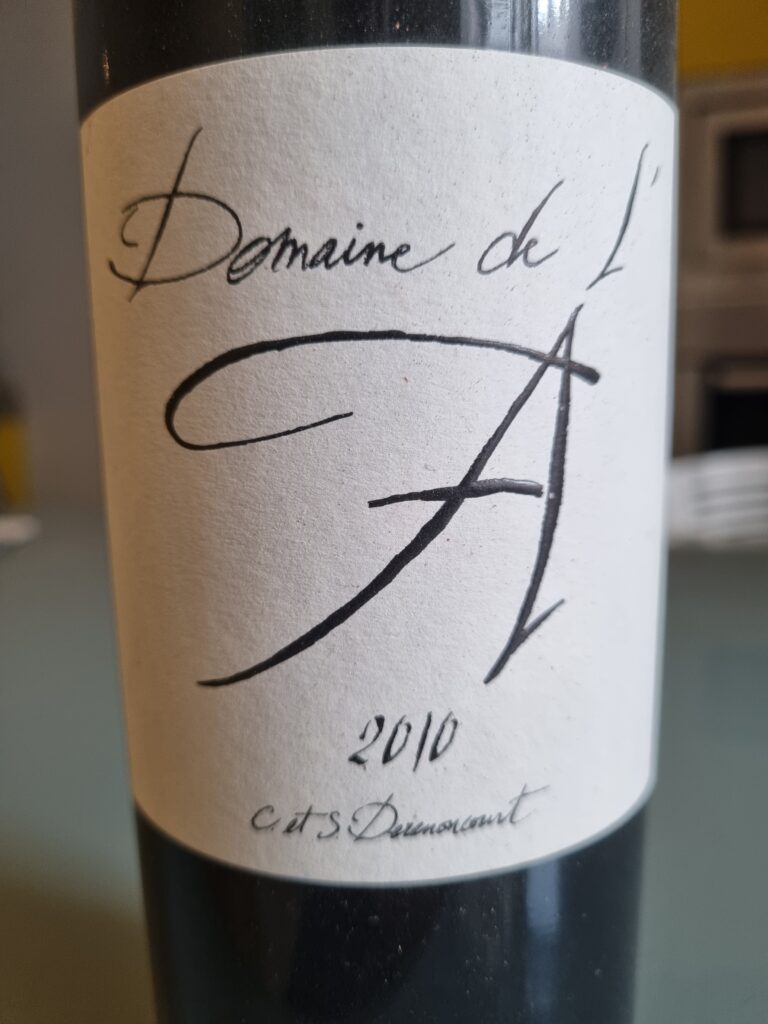 I have had the wine several times at tastings, and quite liked it, but recently had the opportunity to linger over an older version at Sunday lunch. It was a pleasurable experience. The color was vigorous, the nose plummy and ripe, and the flavor rich and satisfying on the palate. If tasted blind, I'd have opted for a mid-range Pomerol not only because of the Merlot profile, but also because of the loose-grained velvety tannin. That's saying something when you consider the price of Castillon wines compared to those of Pomerol. Domaine de l'A sells for approximately 40 euros a bottle – expensive for a Castillon, but a very good deal for an excellent Right Bank wine. Everyone likes a success story, and the Derenoncourts at Domaine de l'A unquestionably fits the description.