How many of you have ever tasted a wine from the Côtes de Francs?
Hmmm. I didn't think so…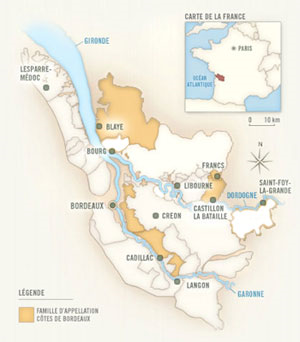 Francs Côtes de Bordeaux (as it is now called) is the smallest appellation in Bordeaux, with approximately 400 hectares of vines. This Right Bank region is located near the Dordogne River and the border with the Dordogne department, a half hour by car from Libourne and twenty minutes from Saint Emilion.
It would be an exaggeration to call Francs (fewer than 200 people) a one-horse town. I doubt there is even a cat there… However, they do have a castle whose oldest section dates back to the 6th century. The family of the famous enologist Michel Rolland lived here, at Château Ad Francos, for two centuries and his team currently oversees winemaking there.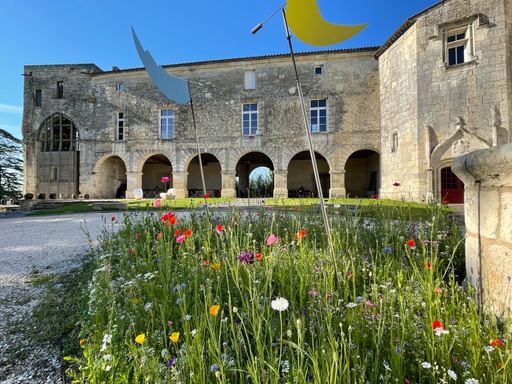 Ad Francos has about 8 hectares of vines (average age 30 years) on clay-limestone soil producing roughly 30,000 bottles of wine a year. The property, entirely restored in the early part of this century, was acquired by Guillaume Brochard and his wife, Qiong Er Jiang, in 2017. Monsieur Brochard lives most of the year in Shanghai, where he had a successful jewellery business that he sold to Kering (Pinault) in 2013. He also acquired three other wine firms having both a négociant activity and/or their own vineyards: La Guyennoise, GRM, and Le Star.
Château Ad Francos is definitely off the beaten track, both geographically and vinously. Relying not only on the wine's quality, but also its rarity, Monsieur Brochard has intelligently decided to position it in the premium category, with prices to match.
I tasted through the range in July.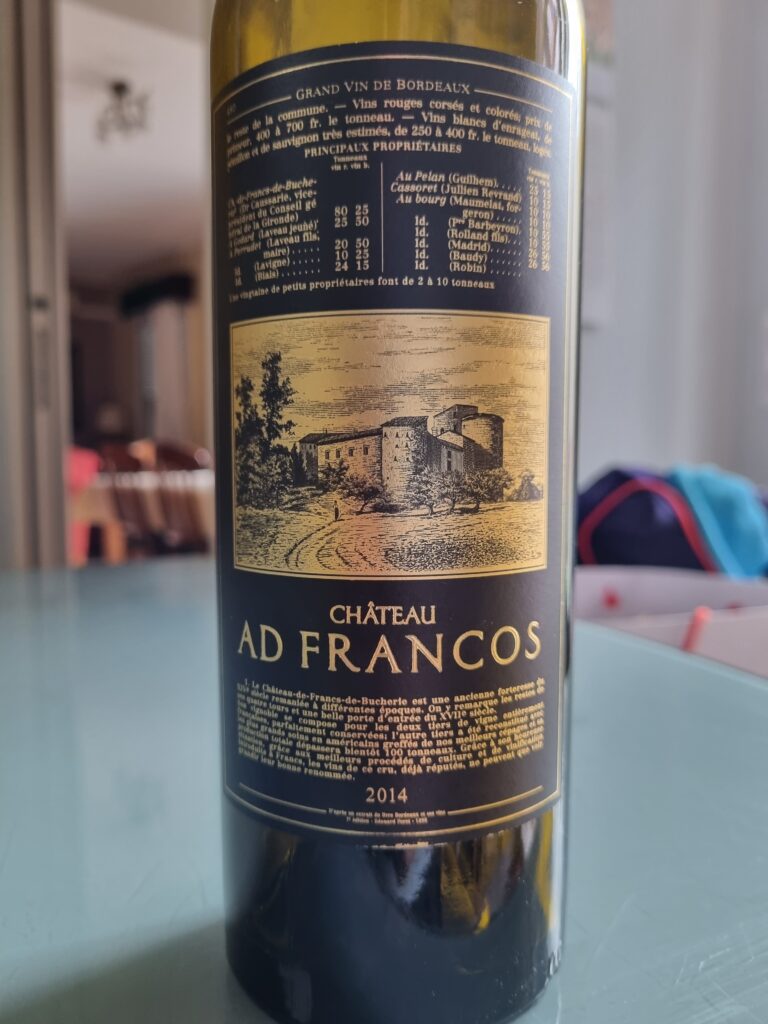 The 2019 and 2020 white wines, AOC Francs Côtes de Bordeaux, were both light, aromatic and mineral without too much oak. The 2015 red Ad Francos was a wine of character needing further ageing and would make a fine match with flavorsome food such as stews or game. The 2016 vintage was also quite tannic with well-integrated oak and a promising future. The 2012 barrel-fermented Reserve, (full name: Réserve Ad Aeternam) at age 11, still showed some oak as well as sweet cherry overtones on the nose, along with hints of spice, pepper, and earth on the palate.
It should be said that Ad Francos has one of the most unusual labels in Bordeaux, reproducing an old engraving of the château and the facsimile of a passage from the 1898 edition of Bordeaux et Ses Vins (Féret).