There were 14 second growths in the 1855 classification of Médoc wines. Perhaps half of these can be considered "super seconds" with a significantly a higher market price than the category average. I can even remember a time when one of them, Léoville Las Cases, tried to close the gap with the first growths… but ultimately failing.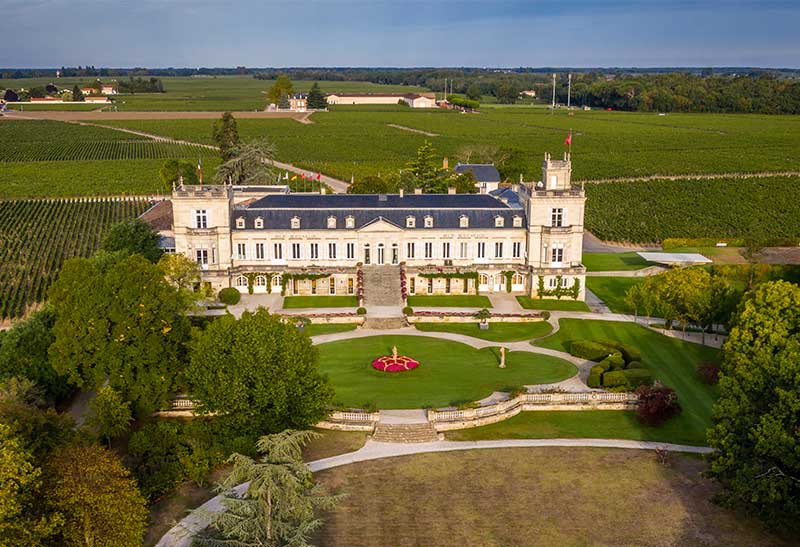 Ducru Beaucaillou is unquestionably a super second growth. The jewel of the Borie family estates has long enjoyed a very high reputation, with the exception of vintages from 1988-1994 which suffered from TCA taint transmitted by wood in the cellar.
I have enjoyed many excellent bottles of Ducru, and special mention for the 1961 and 1982 vintages.
A recent post by Christopher Edwards from Norfolk, England, on the UK Wine Pages board intrigued me. He compared several top 2003 Médocs, and found Ducru Beaucaillou: was the most advanced. This made me think that it was perhaps about time for me to open my one and only bottle of this wine.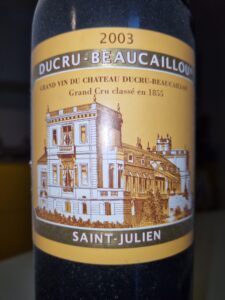 Yes, the wine was browning on the rim, but still had a very deep, dark core after 19 years. It also had an almost viscous aspect. The label said 13° alc./vol. which, even allowing for a half a degree tolerance, was lower than I expected.
The nose showed hints of spice, black fruit, cedar, and chocolate. It was appealing, but not the best part of the tasting experience.

I served the wine blind to my wife, who guessed it was from the Right Bank. I could totally see where she was coming from since the full-bodied richness was indeed reminiscent of Merlot, even if this variety only accounted for 25% of the blend.

So much has been written about the 2003 vintage that I was inevitably on the lookout for certain negative characteristics (alcoholic heat, flabbiness, etc.). On the whole I did not find these, except for some dried fruit nuances and an above-average – but not overwhelming – impression of alcohol on the rather dry finish. On the whole, this was a vinous, full-bodied Médoc that did not seem like it could be from anywhere other than Bordeaux. I would have preferred to open the wine a few years earlier, but it was by no means seriously flagging.

While not from a "politically correct" vintage, this 2003 Ducru held its own and did justice to the estate's reputation. it also makes me think that I should start investigating any other 2003 wines I have left in the cellar.