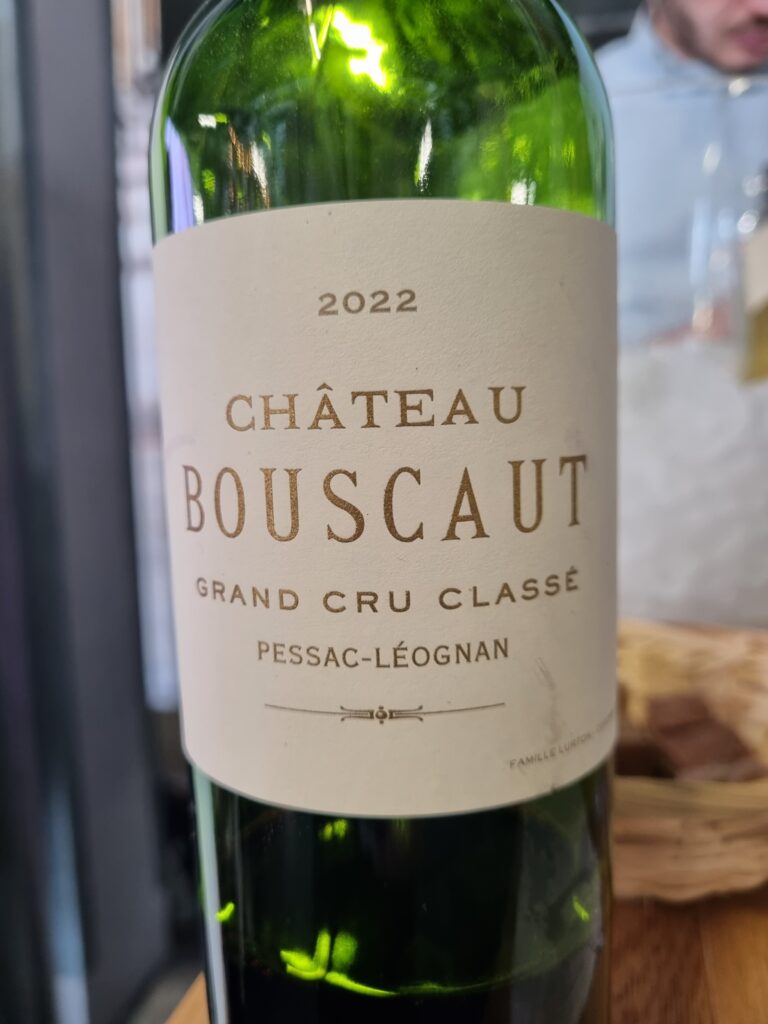 Bouscaut (red)
N: Closed and moderately oaky.
P: Long on the palate, but seems massively overoaked at this stage. Plenty of acidity, but not enough fruit and way too much oak. Not a good time to taste this wine, which needs to be re-evaluated later.
OK

Carbonnieux (red)
N: Seems very young indeed. Fresh fruit aromas and not overoaked.
P: Plush on entry going on to reveal polished tannin and acidity. Tangy, refreshing, and delicious. Just a little short. Nevertheless, a fine effort from the château.
Good to good plus.

Carmes Haut Brion
N: Subtle red fruit aromas along with vanilla and black pepper notes.
P: Medium body. Tight, with teeth-coating tannin that are nevertheless of extremely high quality and bode well for long ageing. A lively appetizing wine with some tarry overtones. The texture is absolutely wonderful.
Very good.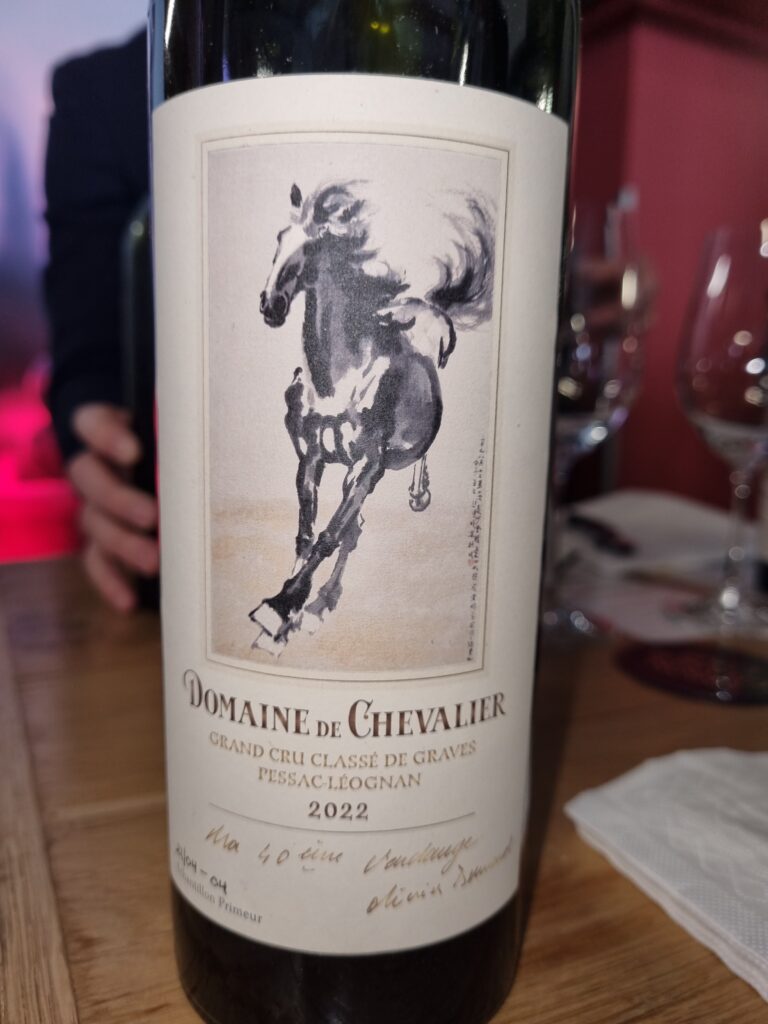 Domaine de Chevalier (red)
N: Impression of ripe Merlot fruit predominates. Moderately expressive red fruit and quite fresh.
P: Svelte with marked acidity without softness to back it up. Wine to enjoy for its elegance rather than power or richness. Raspberry flavors. Bit unyielding finish, but there is textured velvety tannin there and this will obviously reward ageing.
The label is quite unusual for this vintage, featuring a 1941 watercolor of a galloping horse by Chinese artist Xu Bei Hong.
Good plus

Fieuzal (red)
N: Pure blackberry jelly aromas and subtle oak. Not profound, but certainly engaging.
P: Starts out round then progresses into a long aftertaste. Raspberry and redcurrant flavors with lively acidity. Fine-grained tannin on the finish.
Good plus.

de France (red)
N: Brambly as always, and soft. Aromatics of earth and forest floor.
P: Moderately fruity, short aftertaste with slight impression of alcohol. Overoaked at this point, but time will tell…
OK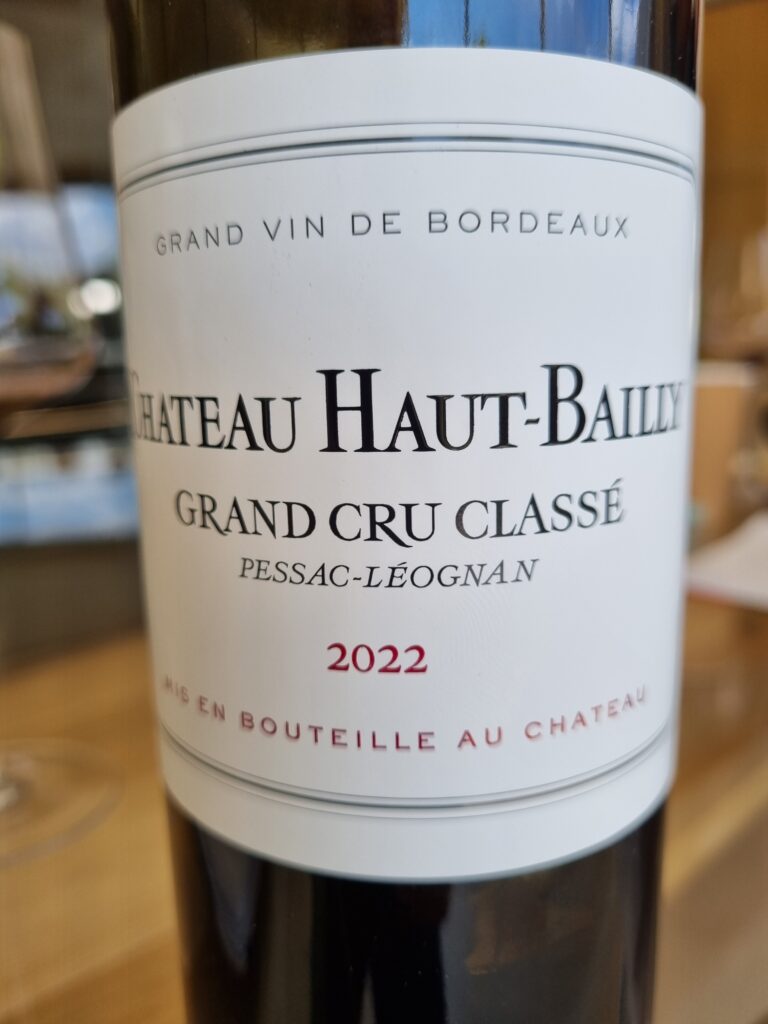 Haut Bailly
N: Spicy, fresh, pine resin aromas.
P: Sinewy and svelte with a positive sort of bitterness on the aftertaste which nevertheless drops off somewhat. Too oaky at present, but has the structure to integrate that over time. Narrow flavor profile, with some licorice, but excellent within that framework.
Good plus

Haut Brion (red)
N: Fine beeswax and lovely scent of fruit hiding its light under a bushel at present.
P: Chewy texture. Quite round, then assertive with new oak, significant acidity, and an uncompromising quality that provides decades of ageing potential. There's a positive sort of greenness to go along with the ripe fruit. The tanginess at the onset is very appetizing, and this is complemented by tremendous length. Just shy of 15° alc./vol. but altogether extremely elegant. Times have certainly changed in Bordeaux!
Very good.

Larrivet Haut Brion (red)
N: Fine fresh raspberry bouquet. Brambly and smoky Pessac-Léognan nuances. Understated and classic.
P: Tight with vibrant acidity. Made to last. A different style to the others and one I quite like. Not so commercial, but encourages ageing. Medium-light in body and succeeds in focusing acidity and fruit at the same time. Cool fresh aftertaste.
Good to good plus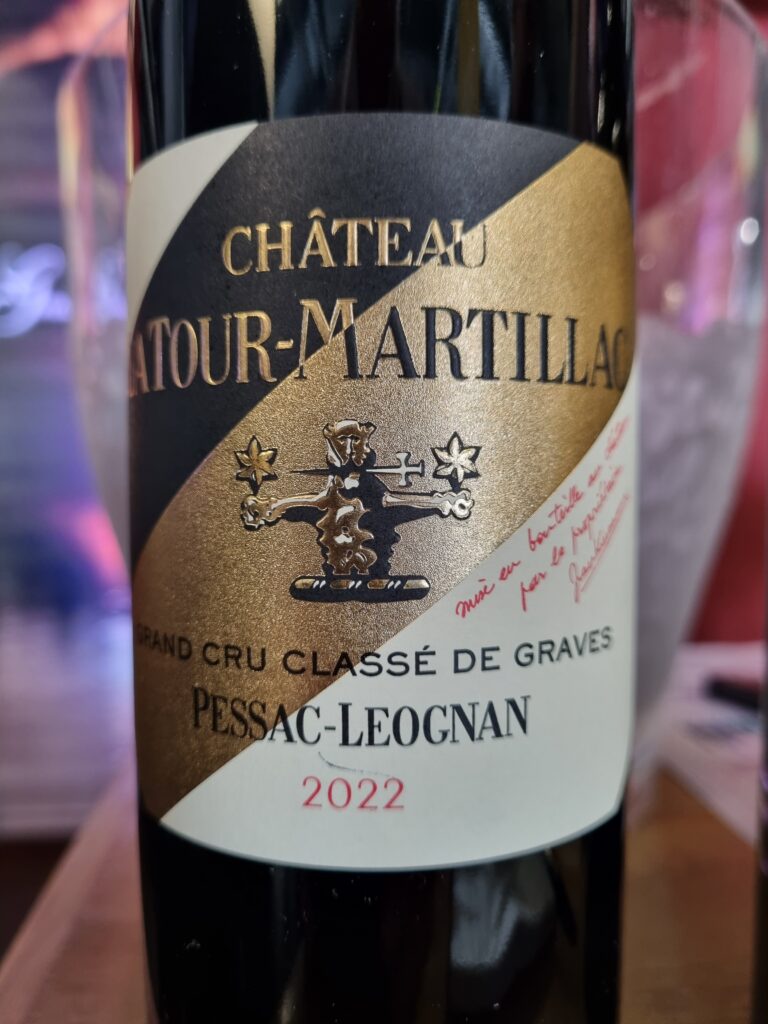 Latour Martillac (red)
N: Aromas of caramel, oak, and black fruit. Fairly suave, but lacks personality at this stage. Some toasty oak.
P: Natural fruit flavors, especially raspberry, with a very positive kind of marked acidity. Light on its feet. A little short, but refreshing. Will age well, but this is not one of the appellation's frontrunners.
Good

La Louvière (red)
N: Sweet and simple with some toasty oak.
P: Medium in most ways. Elegant flavor profile with a floral aspect. Short, but balanced and attractive. Should La Louvière be promoted one day to great growth status? In light of today's tasting i.e. compared to other crus classes, I'd have to say no.
Good.

Malartic Lagravière (red)
N: Elegant perfumed bouquet redolent of violet, rose, red fruit, and oak.
P: Bit sharp and tangy. Poised and feminine in style, as usual, but the sample was not in tip-top condition, showing too much oak and a dry finish at present. Promising, but needs to be retasted.
Good.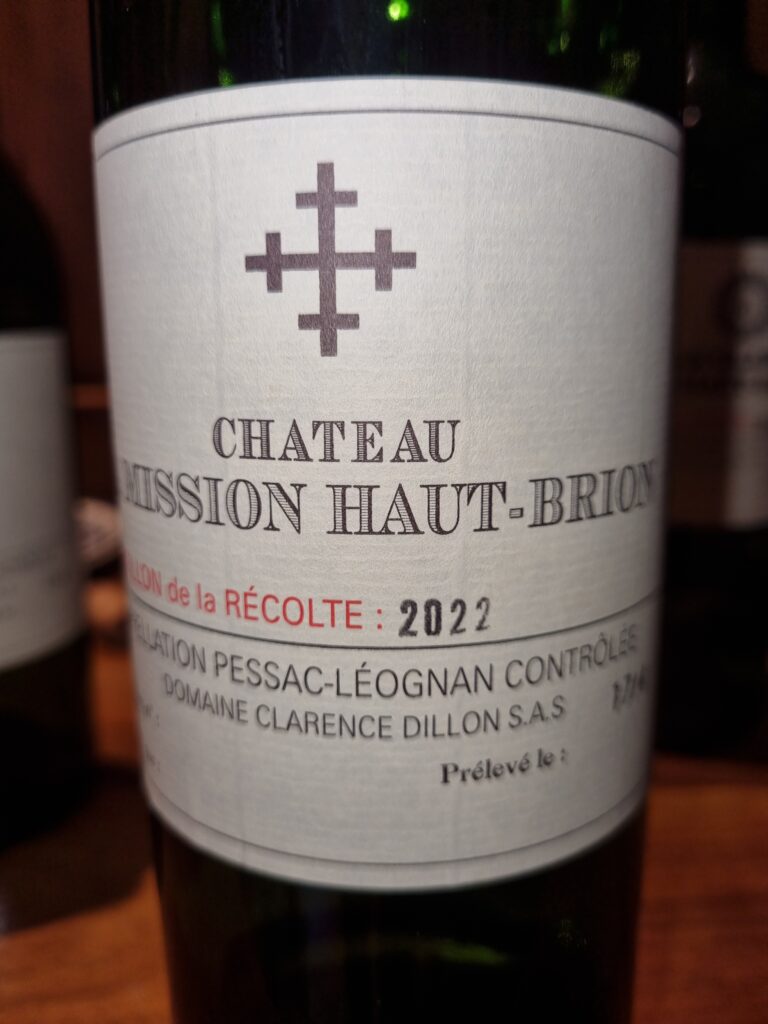 Mission Haut Brion (red)
N: Sweet briary aromas with pipe tobacco nuances. Understated and very promising and already showing signs of complexity.
P: Possibly as little diluted on the attack, but zings in with authority revealing wonderful Graves tannin. Medium-weight in body, even tending towards lighter-than-average. The tannin clearly gives the wine structure to last for decades. Fresh, but development on the palate is short of perfect. Long subtle finish.
Very good.

Olivier (red)
N: Upfront and very ripe. Lovely deep dark berry fruit nuances.
G: Soft, easy-drinking wine with red and black fruit flavors echoing the bouquet. Refreshing, but the oak is rather hard at this time. Well made. An estate offering worthwhile value for money.
Good.

Pape Clément (red)
N: Not very expressive at this time.
P: Rich with good acidity and grip. Black fruit and the oak in in keeping for a wine that needs to age for a long time. Delicious aftertaste with an unmistakale slightly leathery/smoky Graves quality.
Good plus.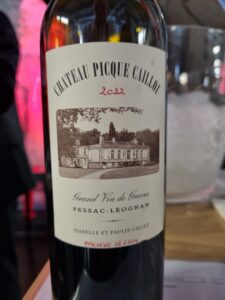 Pique Caillou (red)
N: Sweet, natural, penetrating.
P: Soft and easy-to-drink with a pleasant aftertaste of red and black fruit. The oak influence seems a little hard-edged at this time. The wine is well-made and good value for money.
Good

Smith Haut Lafitte
N: Inky violet nuances along with forest fruit.
P: Rich and concentrated with marvelous tannin that coats the teeth. Lovely long textured aftertaste with a touch of bitterness. Rises above most other wines in its appellation and at this point seems superior to Haut Bailly. Melts in the mouth and the toasty oak is not overdone.
Very good