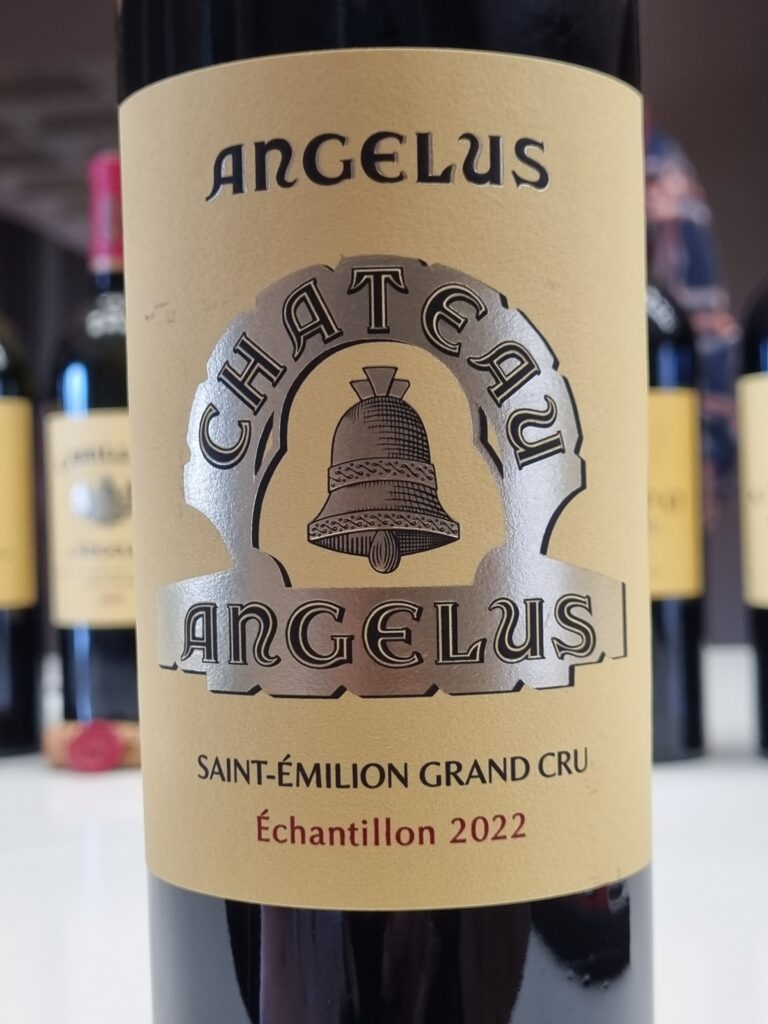 Angélus
N: Spirity, soft, burgeoning.
P: Dynamic, rich, broad-based and strong with assertive black fuit flavors. More toned down and understated than other recent vintages, and better for that.
Good plus.
Ausone
N: Tight, mysterious, revealing little at this time.
P: Fresh, exceedingly well-structured with wonderful balance, and an aftertaste that fits in perfectly with the whole. Superb texture and length. Velvety rather than silky. Black fruit and bramble bush.
Very good.
Badette
N: Very sweet-smelling nose of blackberry liqueur.
P: Big and round, going on to show its power. Alcohol makes itself felt on the finish. Brawny and lacks elegance. For people who like strong sensations.
OK.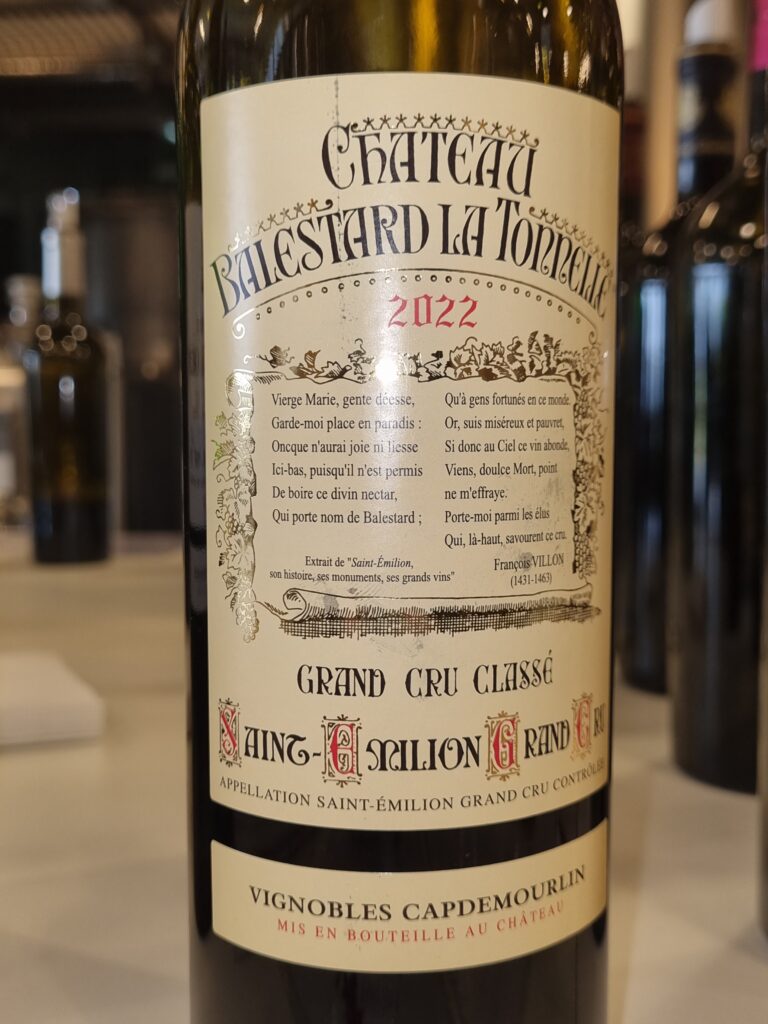 Balestard La Tonnelle
N: Inky black fruit aromas along with licorice and nice floral notes.
P: Rich, chewy, and more enjoyable than sister château Cap de Mourlin. Good balance and satisfying candied fruit flavors. Lovely development on the palate. Long aftertaste in which the fruit overrides everything else. Touch raisiny.
Good plus.
Beauséjour Duffau-Lagarosse
N: Sweet and primary, with some intriguing rose nuances.
P: Plush, fills out beautifully on the palate going on to show a good tannic backbone. Subtle mint and eucalyptus. Fine balance between richness and minerality. Candied black fruit flavors and a certain salinity on the finish.
Very good.

Bélair Monange
N: Fine subtle nose with violet overtones along with toasty oak that is under control.
P: A rather old-fashioned style, but a prime and beautiful example of wine from the Côtes de Saint Emilion. Wonderful ageing potential. Starts out quite round and luscious on the palate, then displays great concentration, ending in a super aftertaste with classy tannin.
Very good.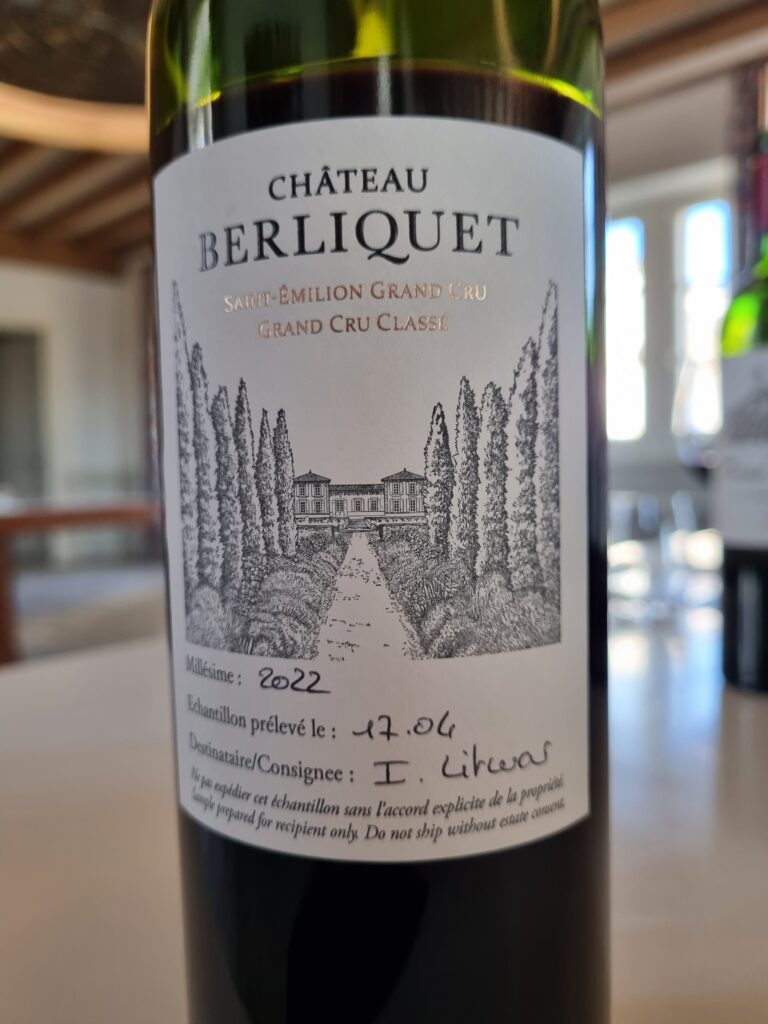 Bellefont Belcier
N: Underdeveloped at this time with vague red fruit aromas along with nuances of coffee, vanilla, and caramel.
P: Better on the palate with lively acidity, rich blueberry fruit. Starts out quite fluid, then rich, then reveals mouth-coating tannin. Powerful tannic aftertaste, uncompromising. Seems slightly unbalanced at this time but may age well.
Good.

Berliquet
N: Pure red and black fruit. Seems almost more redolent of fresh grape juice than wine.
P: Tremendously round with medium-heavy mouth feel. Not overoaked. Rich and very attractive. Unquestionably seductive.
Good plus.

Cadet Bon
N: Sweet and concentrated black fruit (blackberry) aromas.
P: Round and big. Both flabby and tannic with some alcoholic heat and dryness on the palate.
OK.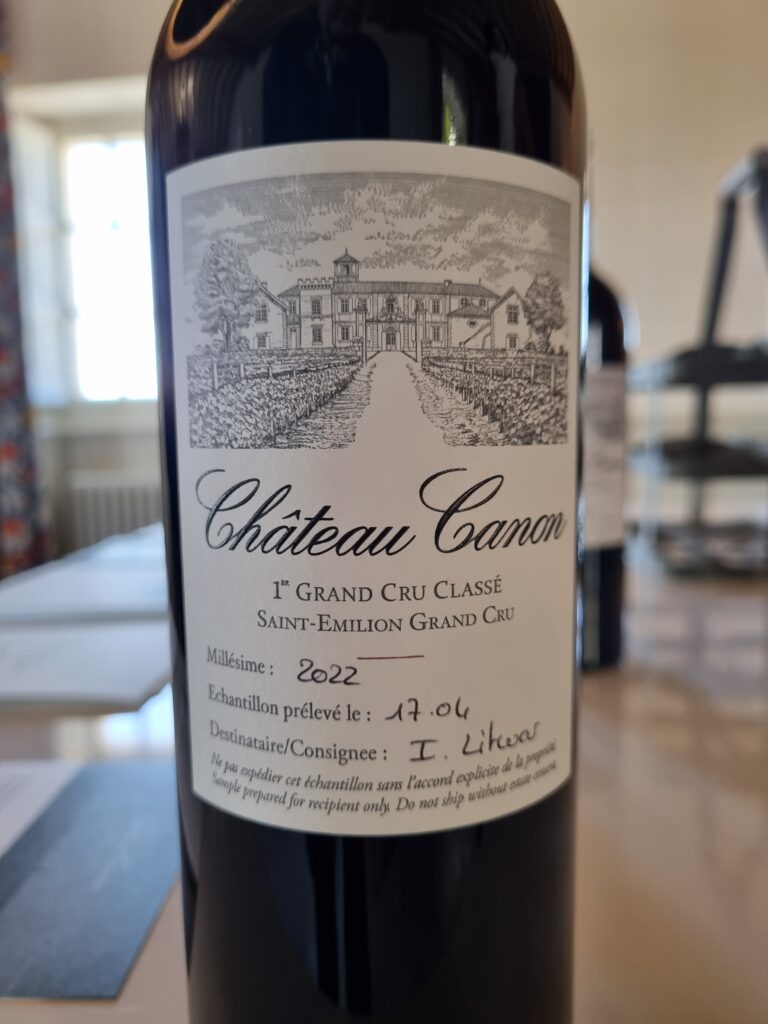 Canon
N: Serious, monumental bouquet. Very sweet and very classy. Exotic and sensual.
P: Rich, unctuous, and pure. Great follow-through into a long textured aftertaste. Spherical than pivots beautifully into minerality. Fine long finish.
Very good.
Canon La Gaffelière
N: Berry bush blossoms, iris, and violet. Elegant beguiling bouquet.
P: Puckery and fresh with lots of oak. Penetrating with the stamp of limestone terroir, but lacks richness, body, and softness. Considerable ageing potential leaves room for improvement in a wine that is already good.
Good.
Cap de Mourlin
N: Soft and primary with aromas of freshly-picked grapes.
P: Somewhat angular and acidic compared to other wines of the vintage. At the very least, this will help the wine to age well. On the whole, in the middle range compared to its peers.
Good.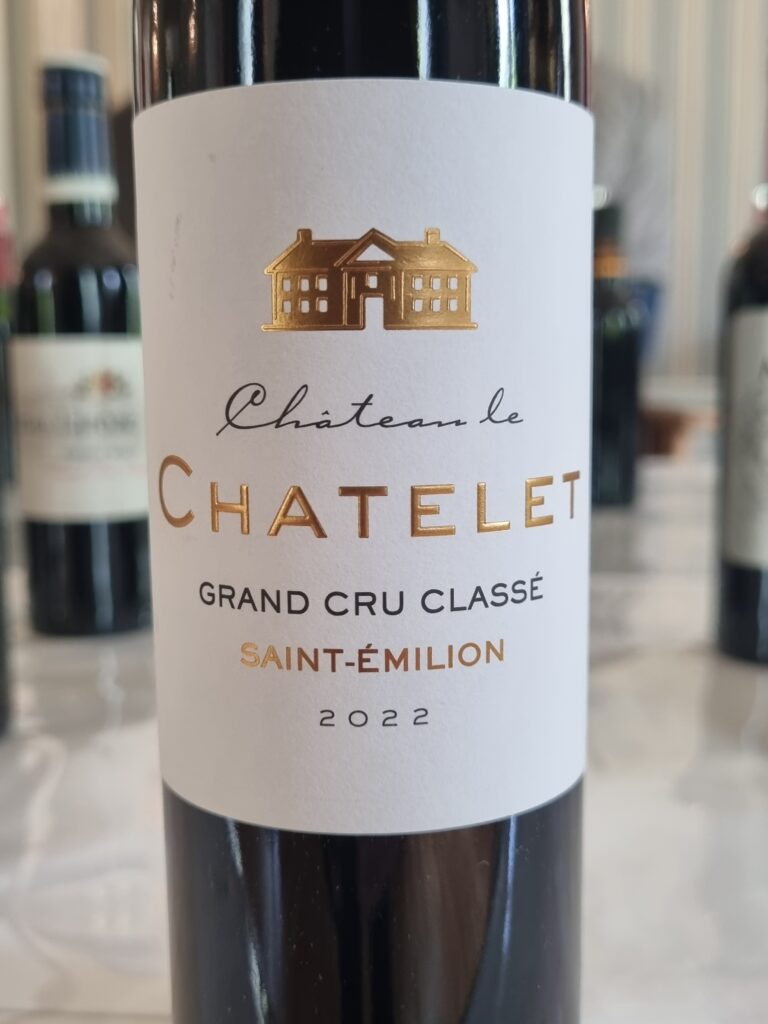 Chatelet
N: Sweet blueberry and pronounced candied fruit aromas. Little oak.
P: Rich, spreads out well on the palate. A big wine that carries itself well. Quite full-bodied and round, but with the inimitable minerality of the Saint Emilion plateau. Calls for food that can stand up to it. Mouthfilling. Deserves to be better-known.
Good plus.
Cheval Blanc
N: Subtle wildflower nose, but not well-defined at this time.
P: Suave, big, and juicy, with ripe Cabernet Franc coming through particularly in this vintage. Fresh and the seeming simplicity at first blossoms on the palate to reveal superb authoritative tannin. Such a successful vintage that no second wine (Petit Cheval) was made.
Very good.
Clos Badon
N: Understated, sweet, and simple with some chocolate notes and unobtrusive oak.
P: Starts out with attractive roundness. Refreshing with a good follow-through. Medium weight on the palate. Well-balanced and good length for this new grand cru classé belonging to Thunevin.
Good plus.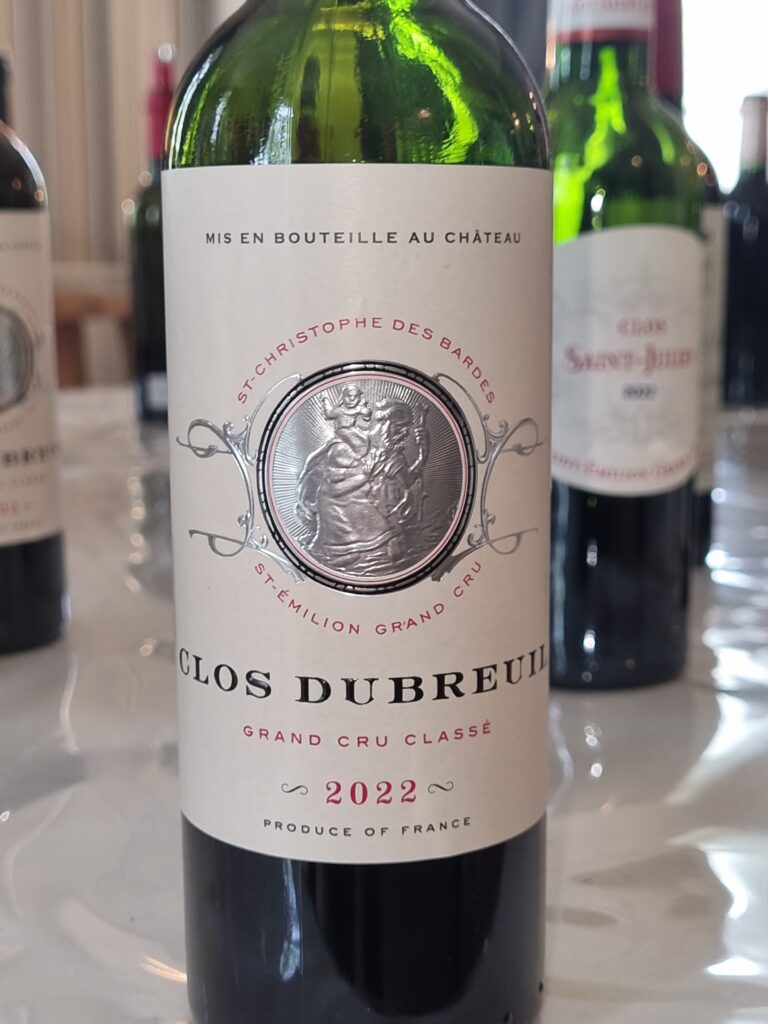 Clos Dubreuil
N: Not very expressive, but shows overtones of toasty oak and brambly fruit along with white flower aromas.
P: Plush, melts in the mouth, going into a tannic and slightly dry aftertaste. Marvelous texture. Generous. Very fruity and juicy with a mineral aftertaste.
Good plus.
Clos Fourtet
N: Primary aromas of ripe red fruit.
P: Compact and resonant with good acidity. With good acidity. Classic Saint Emilion with a a long cool aftertaste with the unmistakable stamp of the limestone plateau on the finish, which is long and velvety.
Very good.
Clos Saint Julien
N: Refined berry nose. Quite a complex, fresh, classy bouquet with well-integrated oak.
P: Melts in the mouth then goes into teeth-coating acidity. Will surely age beautifully. Seems almost Pomerol-like but the limestone finish shows its Saint Emilion roots. Quite tannic. A sleeper and fine wine a tiny vineyard.
Good plus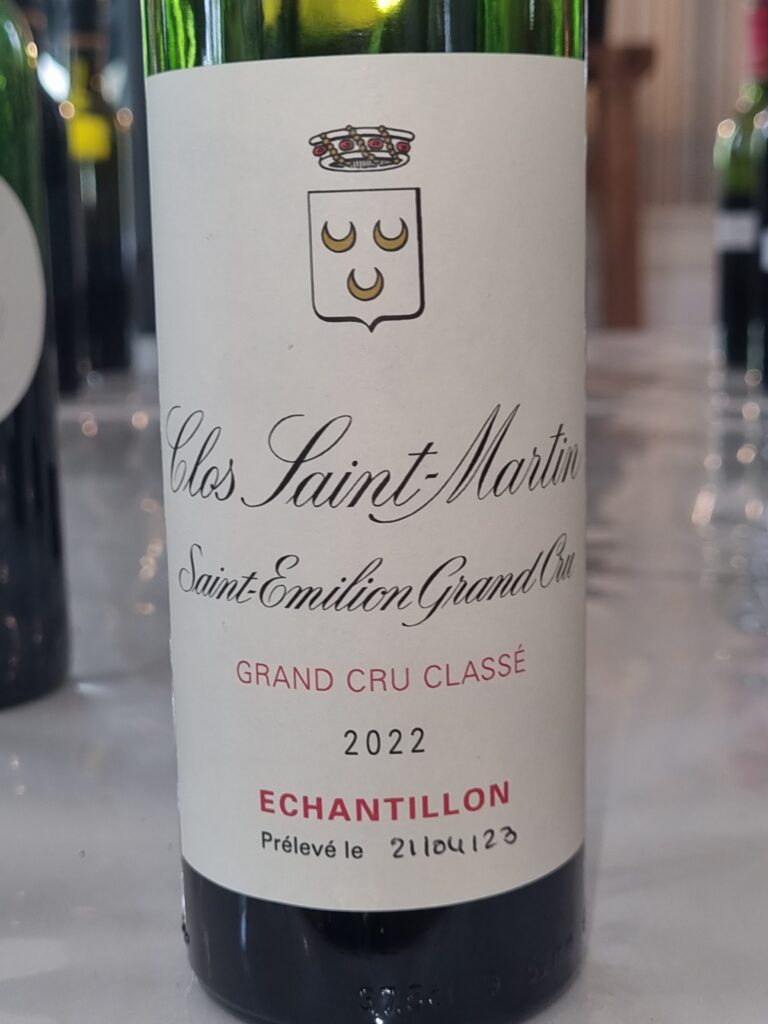 Clos Saint Martin
N: Wafting nuancs of berry fruit and violet. A soft subtle bouquet for connoisseurs because you need to look for it to find it.
P: Beautiful taste profile. Plush mouth feel that caresses the palate, then goes into the traditional minerality of the limestone plateau. Simply wonderful. Smallest cru classé in Saint Emilion.
Very good
La Confession
N: Very engaging fresh berry aromas with some dark chocolate overtones.
P: Fine tannic texture coupled with vibrant, but not sharp acidity. On the light side for a 2022 Saint Emilion, but elegant with very excellent tannin. A little dry on the aftertaste now, but that could very well disappear over time.
Good plus.
Corbin
N: Sweet, perfumed, and delicate with violet, rose, and some fermentation aromas,
P: Medium-body. Svelte and poised with a touch of tar on the fine floral aftertaste. Ageworthy. The best Corbin I've had thanks to its finesse rather than its power.
Good plus to very good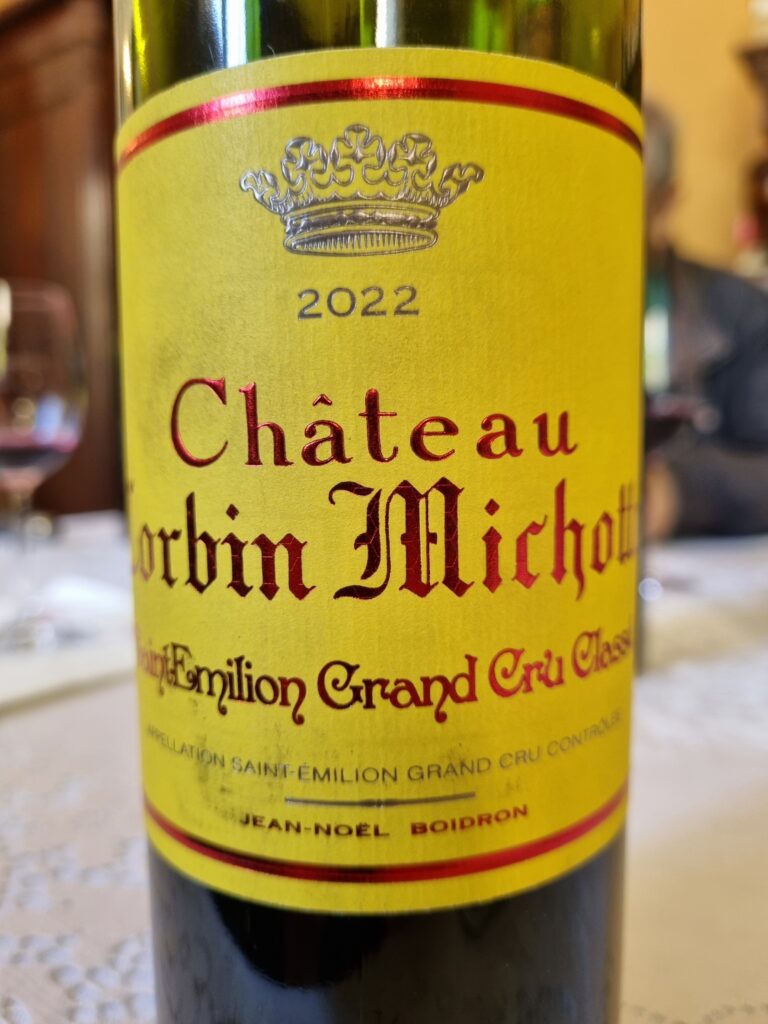 Corbin Michotte
N: Touch of reduction at this early age and slightly spirit.
P: Pure and brambly with great fresh acidity to provide freshness and ageing potential. Interesting long aftertaste underpinned by that great acidty.
Good.
Côte de Baleau
N: Very enticing, with violet nuances
P: Round with a fairly heavy mouthfeel going into tough tannin. This is a pity because there is much that is good about this wine that falls down only due to a lack of elegance.
Good.
La Couspaude
N: Bursting with fruit. Rich sweet cranberry aromas with little interference from oak. Fine bouquet already.
P: Big mouthfeel, but seems hollow after this first impression, and goes on to reveal noticeable alcohol and a dry finish. This wine will always be somewhat top-heavy, but it's a decent big Saint Emilion nevertheless.
Good.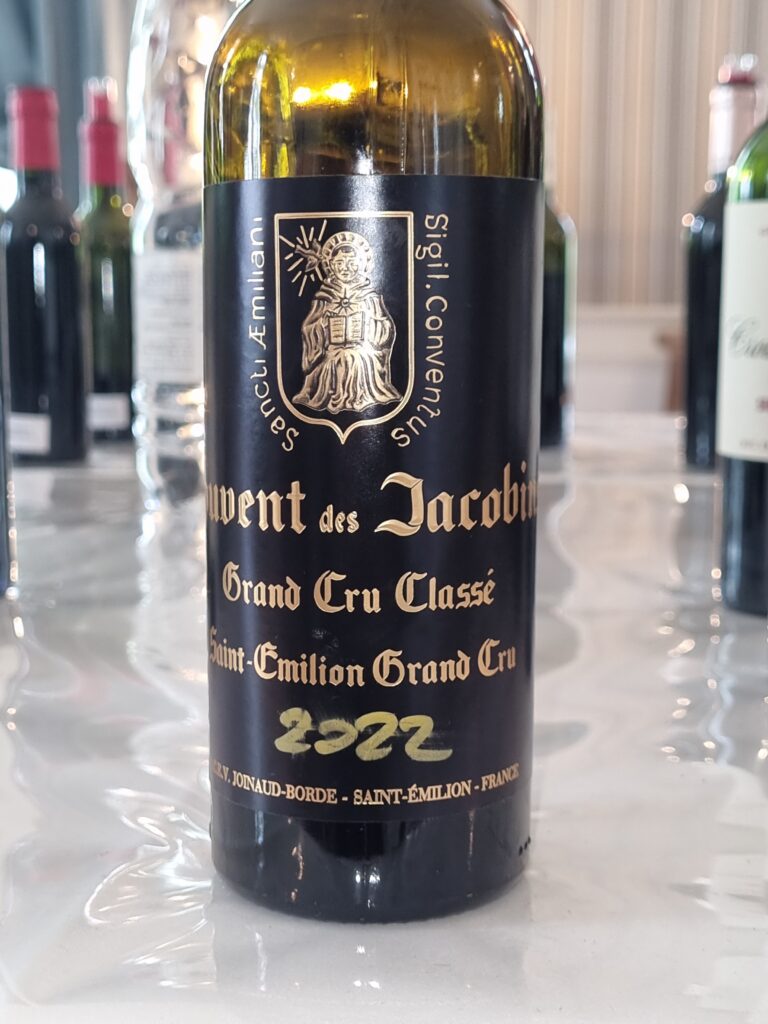 Couvent des Jacobins
N: Ripe Merlot in all its glory. Fresh and forward, almost seems as if it just came from a tank. Touch of mint and a little oak influence.
P: It is funny how the floral component comes through so much more on the palate than on the nose. This is a natural unmodern traditional sort of wine that is 100% Saint Emilion. Starts out sensually with a sort of "sweetness" ending in a long lingering finish. Bravo!
Good plus.

Croix de Labrie
N: Sweet, pure, chalky. High quality.
P: Chewy, chunky wonderful soft tannin with menthol freshness. Mid-weight body and nice decidedly mineral aftertaste that is nevertheless stops a little short. Appetizing.
Good plus
La Croizille
N: Pure deep fruit.
P: Melts in the mouth then goes into searing acidity and tannin. Medium body and an impression of freshness that leads into a dry oaky finish.
OK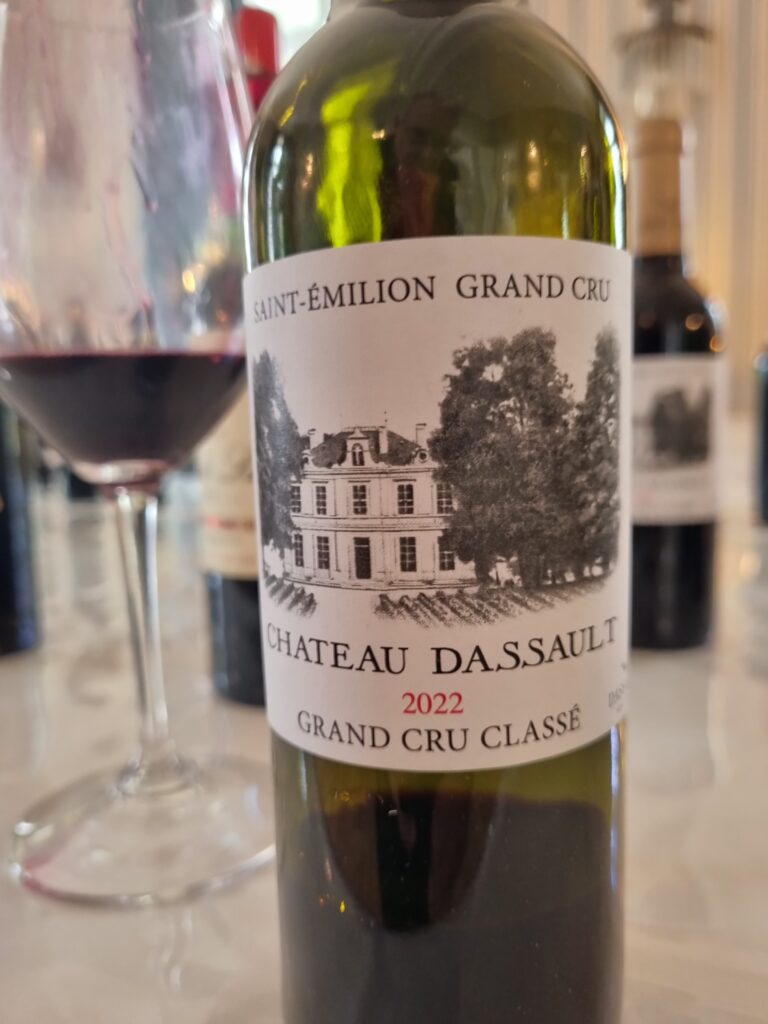 Dassault
N: Sweet red fruit, black cherry, good oak, and a touch of anise.
P: Sensual opening with sheets of soft fruit going into unmistakable Saint Emilion minerality on the finish. Less body and perhaps less ageing potential than others at the tasting, but a fine wine best enjoyed on the young side.
Good plus
Destieux
N: Bit spirity, but suave.
P: Round into a tight structure with noticeable oak, but not too much. Flavor of black fruit jelly and very appetizing. Concentrated with a medium-long finish.
OK
La Dominique
N: Subtle, ethereal blackberry aromas.
P: Voluptuous. Melts in the mouth and transitions seamlessly into a fine long aftertaste. Best La Dominique I've ever had and a wonderful reflection of its terroir.. There's a floral component, as well as great tannic texture.
Very good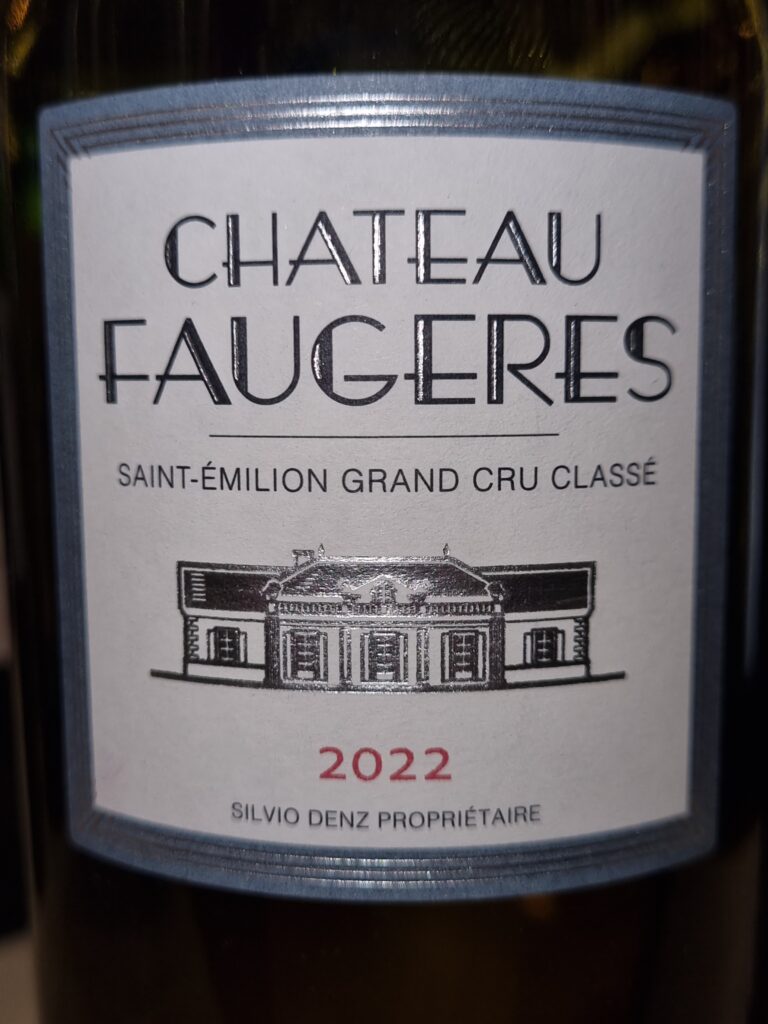 Faugères
N: Closed for business on this day. Obviously needs time to come out.
P: Medium-heavy mouth feel along with sweet bright fruit. A commercial style, but also serious. Very long velvety aftertaste.
Good plus.
De Ferrand
N: More indeterminate than anything else, with some celery aromas.
P: Curiously light and then a certain harshness sets in.
OK
Figeac
N: Rich fruity bouquet with marked violet overtones.
P: Lovely mouthfilling first impression going into the type of reserve bordering on austerity displayed by the finest wines of Bordeaux. Perfect illustration of an iron fist in a velvet glove. A saline impression on the finish shows how appetizing this great wine is. It can surely vie with Cheval Blanc.
Very good.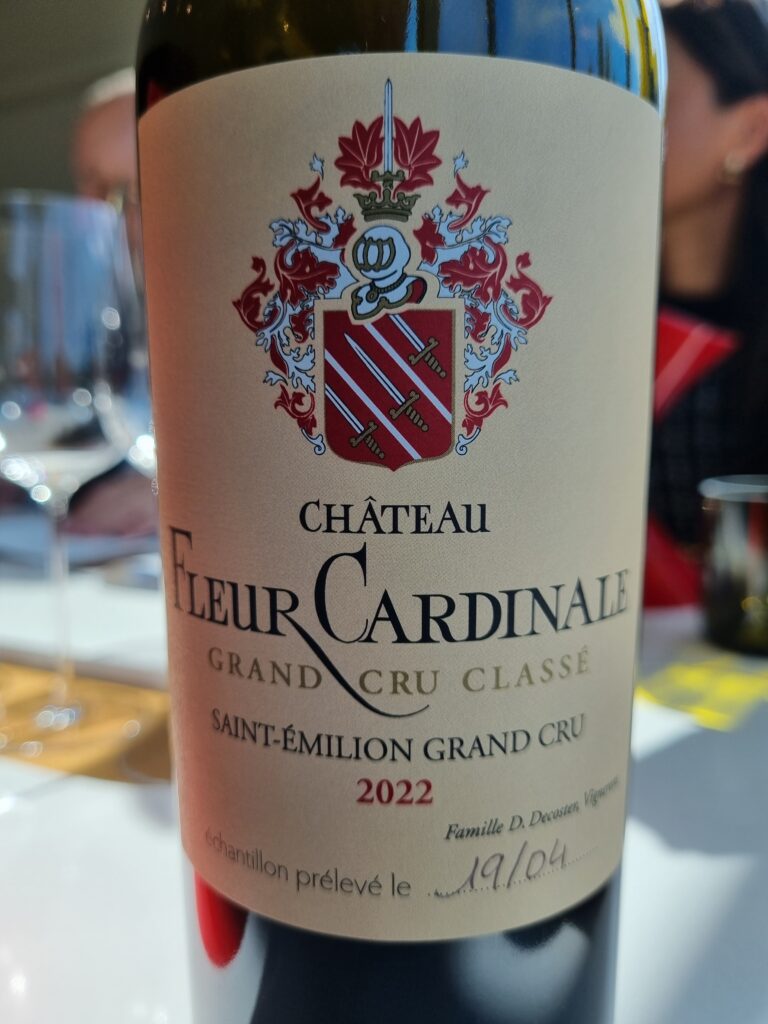 Fleur Cardinale
N: Hard to know if the bouquet smells more or red or black fruit.
P: Lovely juicy development on the palate. Soft from beginning to end with cherry flavors. A little weak on the middle palate, but tremendously seductive. Medium long aftertaste for this wine with plenty of character.
Good
Fleur Morange
N: Low intensity dark fruit.
P: Pomerol-like with good acidity inside an unctuous framework. Sexy an luscious, but with the tannin and substance to back it up. Fine-grained tannin.
Good plus.
Fonplégade
N: Clean, irreproachable, but not very distinctive. Berry and blossom aromas typical of the best wines of the vintage.
P: Big mouthfeel that shifts into uncompromising minerality typical of the terroir. Very round up until the aftertaste this aftertaste of limestone terroir. Slightly hollow even so. Will age well thanks to its structure and marked acidity.
Good.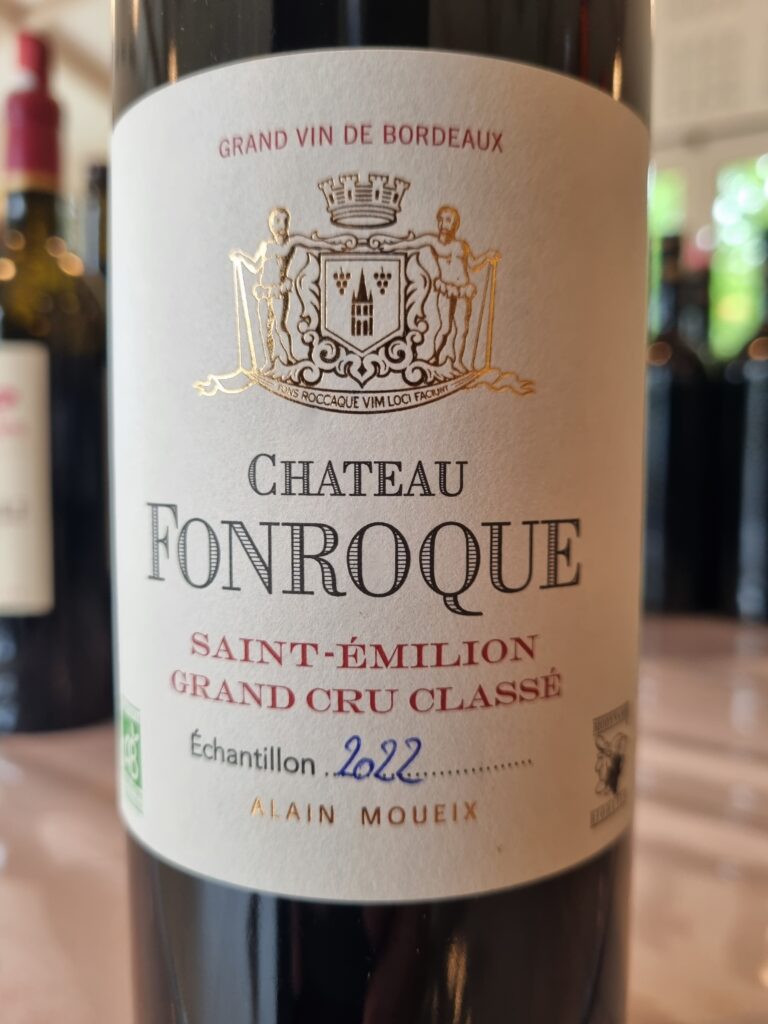 Fonroque
N: Pure, with subtle blackcurrant and candied red and black fruit aromas.
P: Some gas in this sample, which was nevertheless a good solid example of Saint Emilion without any special distinguishing characteristics.
Good.
Franc Mayne
N: Deep intense nose of briar and black cherry jam. Sweet, but not obvious. Great nose.
P: Not quite as good on the palate. Something a bit weak and diluted until the aftertaste, which is slightly rough with some greenness. Minerality in spades.
New label this year for an estate that changed hands in 2018.
Good.
La Gaffelière
N: Plummy with violet nuances.
P: Big mouthful i.e. heavy mouthfeel, then dips a bit on the middle palate, but comes back with a fruity, gummy flavor and a sweet, pure, and very mineral aftertaste. Worthy of retaining its Premier Cru status? Good winemaking and high-quality fresh aftertaste would suggest so.
Good plus.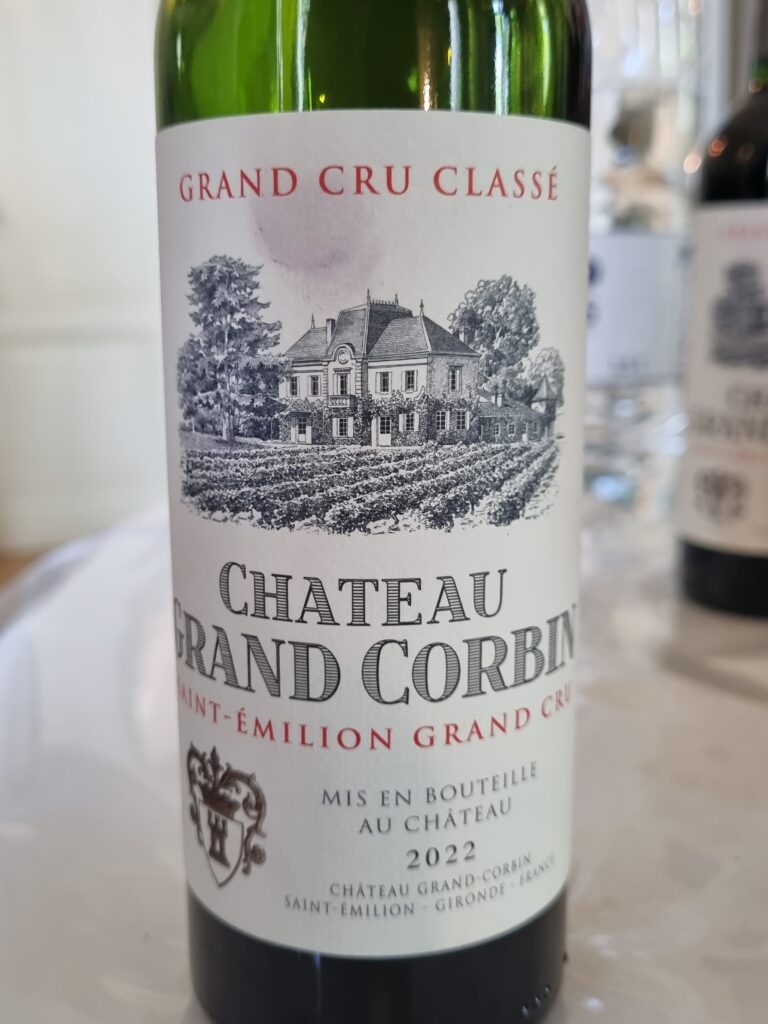 Grand Corbin
N: Pure and discreet with candied red fruit.
P: Tight with good development on the palate. Dense and fresh, with fine tannin and candied black fruit. Excellent finish.
Good plus.
Grand Mayne
N: Beeswax and floral notes with underlying blackcurrant.
P: Brawny, chunky, with good fruit and textured tannin. Not as big and clumsy as some previous vintages. Strong and characterful though, and there's the acidity to provide balance. A meaty virile kind of Saint Emilion. Long assertive aftertaste.
Good to good plus.
Haut Sarpe
N: Fresh, but unforthcoming. Subtle berry fruit, but too closed at this time.
P: Vibrant raspberry Cabernet Franc aromas. Excellent and refreshing balance with a tangy finish. Chunky in a good way but neither top-heavy nor overly alcoholic. Rubbery tannin and the sort of wine that is good either young or old.
Good plus.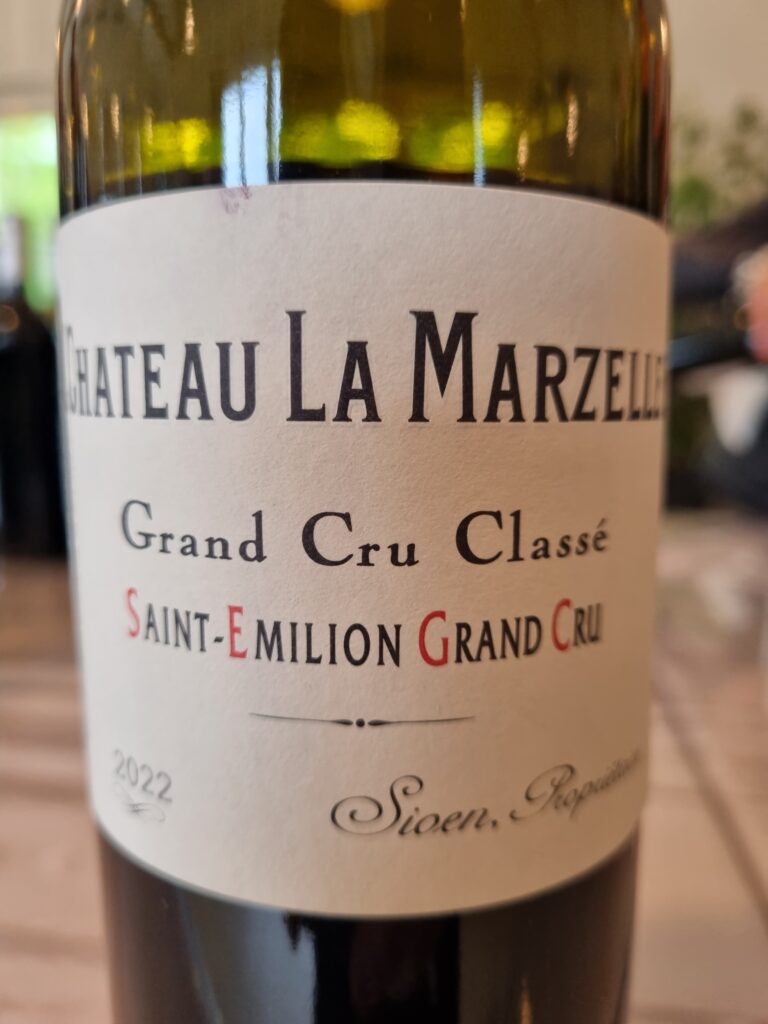 Lamarzelle
N: High-pitched, deep, and subtle with coffee and vanilla nuances.
P: Seems very much like a Pomerol to begin with, then the wine's structure emerges. Seems rather delicate until the aftertaste kicks in. Svelte body with good length and ageing potential although not broad-based or especially assertive.
Good.

Laniote
N: Biscuity, with some lead overtones. Some reduction at this time. A bit curious, but OK.
P: Rich, even flabby to start off with, then rough tannin kicks in. Not altogether balanced, but this is a decent old-fashioned style of Saint Emilion. Grippy tannin on the aftertaste. This will help the wine to age, but will the fruit stay?
Good.

Larcis Ducasse
N: Rather retiring and hiding its charms for the time being. Some wild flower nuances.
P: Forthcoming, with slick smooth tannin. Seems more like a Pomerol than a Saint Emilion. The aftertaste is not very long, but this is an attractive wine to drink young. Immediate neighbour of Pavie.
Good.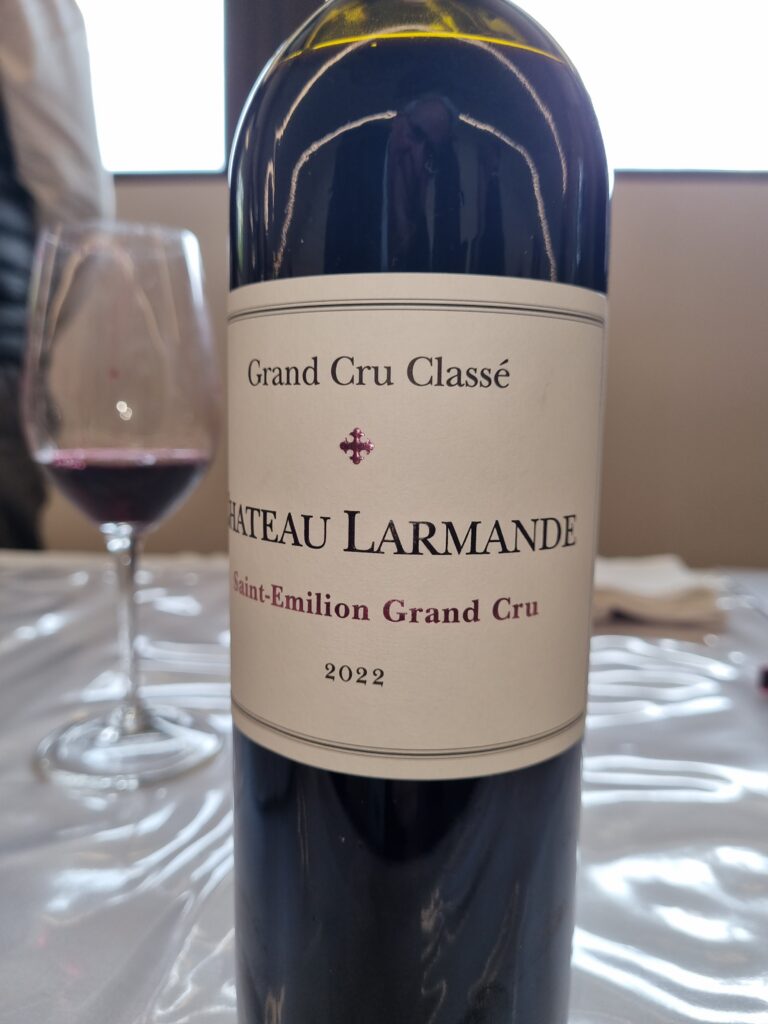 Larmande
N: Good, but unremarkable at this time, which is to say average.
P: Soft velvety tannin going into a medium-long round aftertaste full of berry fruit. A crowd-pleasing sort of wine, quite aromatic on the palate with violet nuances. Commercial style. A touch dilute. Will be forthcoming young.
Good.
Laroque
N: Fresh, pure, berry fruit aromas with some licorice. Concentrated and appealing without oak overreach.
P: Very rich with chocolate overtones. Frankly on the heavy side with noticeable alcohol on the finish. Not a bruiser, but a very tannic wine calling for strongly-flavored food.
Good.
Laroze
N: Plummy, sweet, upfront, and fresh with some depth.
P: Fresh, but disjointed with unpleasant acidity and harsh tannin. This only goes to show how young the wines are at the en primeur tastings, and how good wines are not necessarily on their best form. Tannin here seems quite tough.
To be fair, this wine needs to be retasted before and after bottling.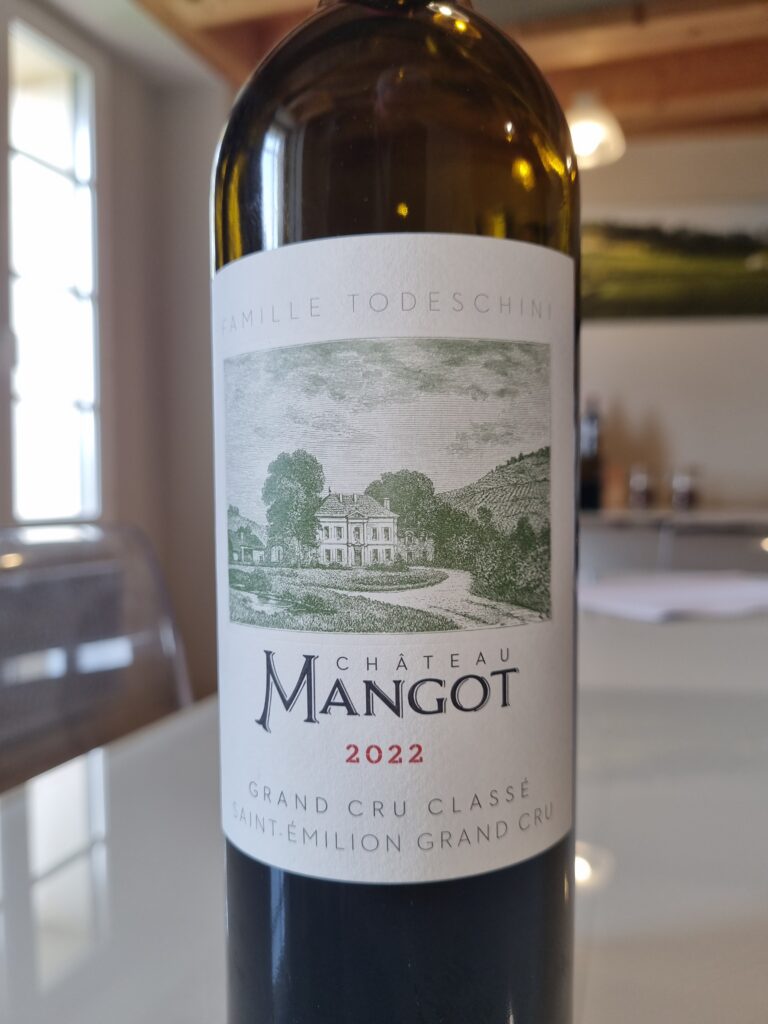 Mangot
N: Powdery, with refined cherry and fruit juice aromas. Some heat. Not up to the palate at this time.
P: Mouthfilling and seemingly sweet. Big and coats the palate. A bit simple, but goes into a pure mineral aftertaste with textured tannin. First vintage of this wine as a classified growth.
Good.
Monlabert
N: Very roasted nose with coffee, vanilla, and caramel nuances (oak) that overrides the fruit at this stage.
P: Better. Plush on the palate with licorice flavors and good follow-through. Interesting balance, but rather short. Good fruit. A nice surprise for this estate newly promoted to cru classé status.
Good.
Montlisse
N: A little simple and ordinary. Not very expressive.
P: Rich and soft on entry, going into an above-average mineral aftertaste. There's an impression of sweetness from beginning to end and an interesting balance between austere tannin and an easy-going cherry flavor. Marked acidity on the finish
Good.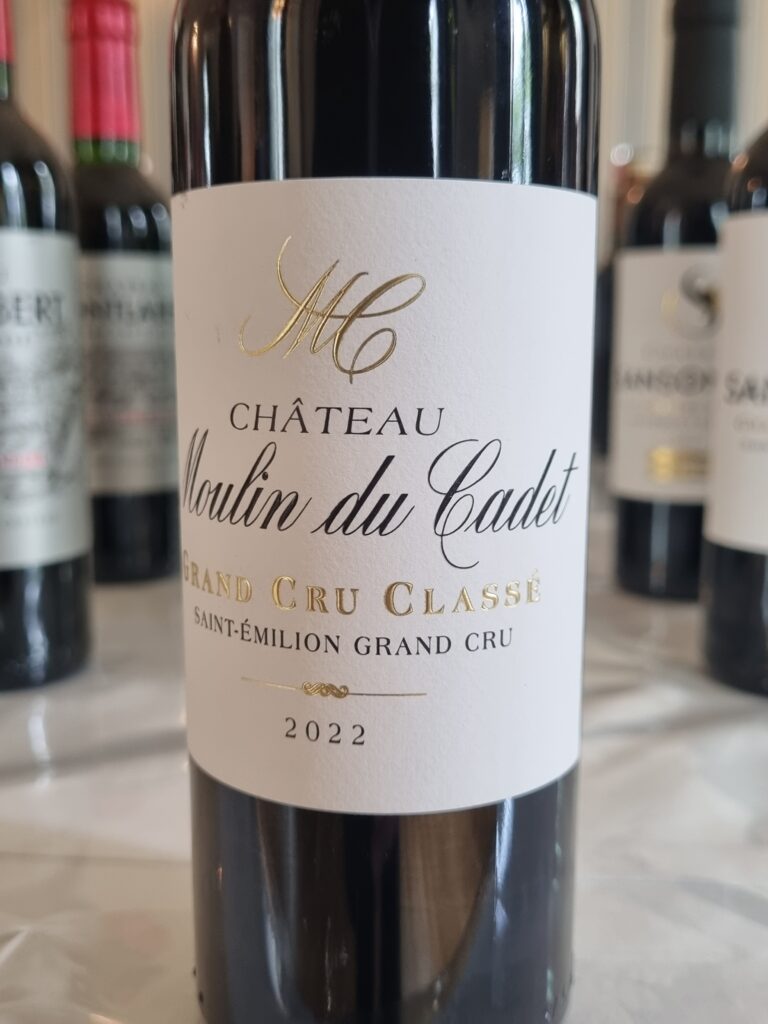 Moulin du Cadet
N: Something a little off at this tasting, but the nose is inky, deep, and mysterious.
P: Big, but there is sprightly raspberry acidity that makes this more easy-going and "digestible" than some of the other wines at the tasting. The body is there, but not quite enough elegance. Clean limestone finish. Rich and tasty, just a little obvious.
Good
Pavie Macquin
N: Promising red fruit, blueberry, and refined candied fruit aromas.
P: Vinous with great acidity. Big, but restrained. Unexpectedly delicate, with fine-grained tannin and a subtle long aftertaste.
Good plus.
Péby Faugères
N: Closed, brooding, but one senses that there is much to come.
P: Very oaky along with some exotic flavors such as mint. Very enjoyable. Faugères showed better than Péby Faugères on this day, but it could be a different story in ten years.
Good plus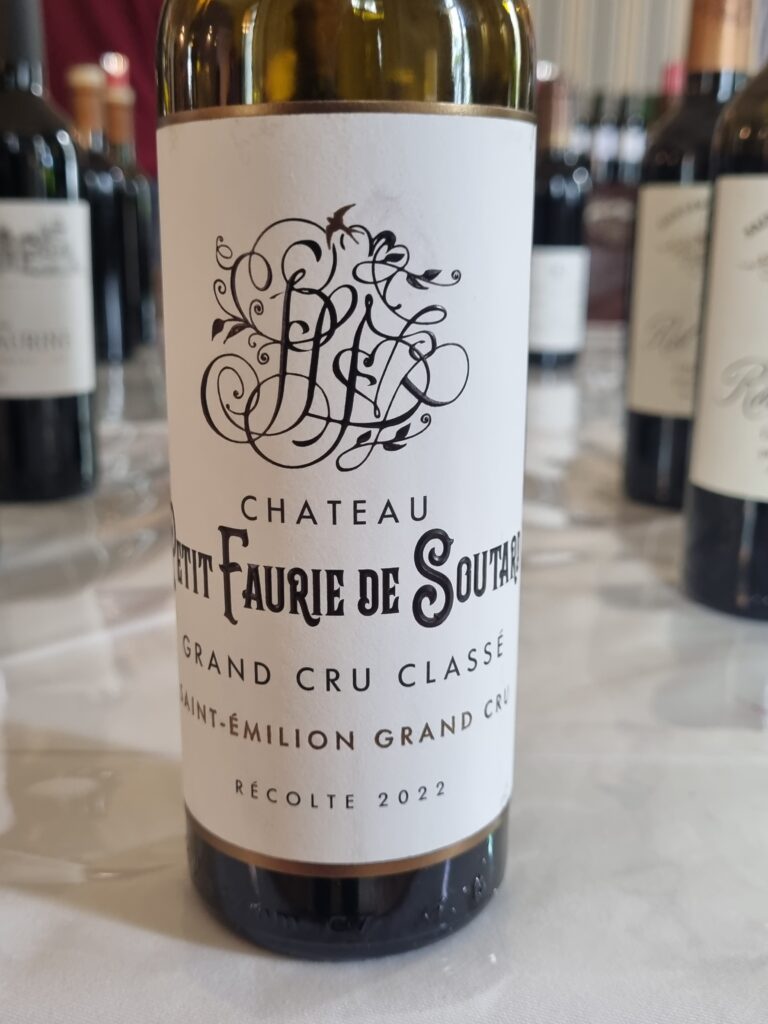 Petit Faurie de Soutard
N: Fine, sweet, and subtle. Fresh, delicate, and marked by floral aromas (iris).
P: Great development on the palate. Fresh once again, with spring water purity and some rose nuances. The floral overtones blend with great berry flavors (forest fruit). Elegant floral finish very reminiscent of crunch fresh fruit. Elegant. This is an estate to watch.
Very good
De Pressac
N: Not showing a great deal at this time. Some blackberry notes.
P: Full-bodied and spreads out on the palate with heaps of black fruit flavors. Great acidity inside a plush shell. Will age well. Coarse velvet texture. A little disjointed at this stage, but one of the best wines I've had from this estate.
Good plus.
Quinault l'Enclos
N: On the simple side, but displaying some promising fruit jam notes.
P: A pretty fruit forward wine that permeates the palate. Upfront ant attractive.
Good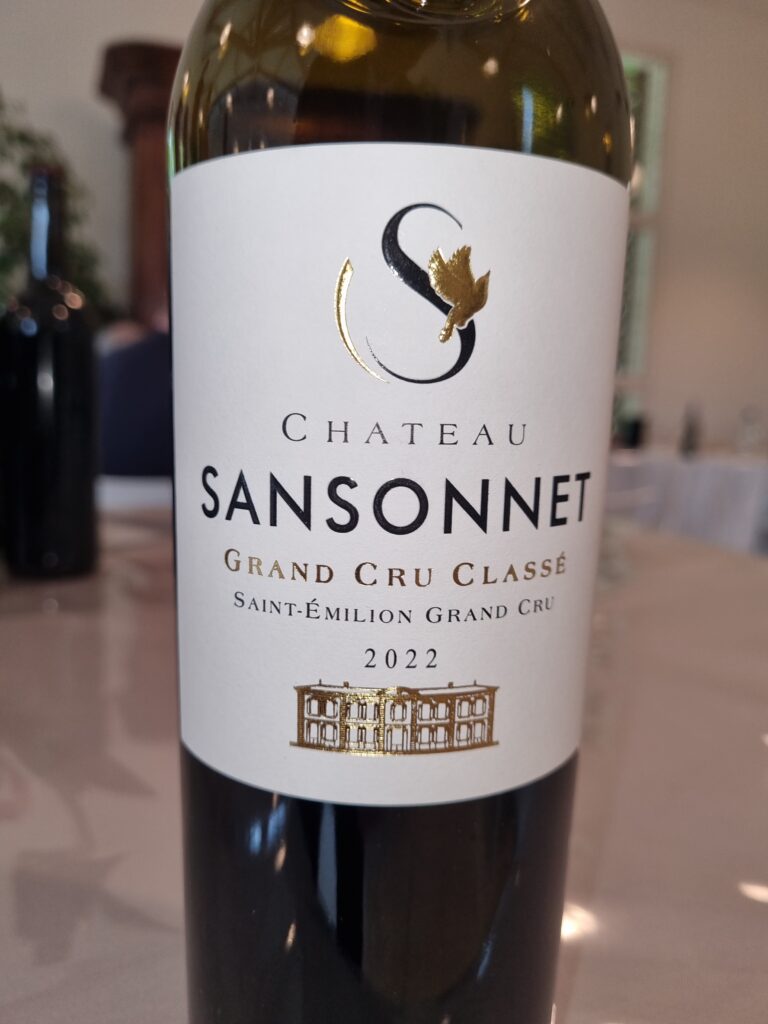 Sansonnet
N: Good oak and enough fruit to back it up. Sweet, elegant, and voluptuous.
P: Big masculine style with a perception of alcohol clearly present. Rather overwhelming and the oak is too much at this stage. Disjointed now, but give it time!
Good.
La Serre
N: A little spirity, somewhat remniscent of cherry liqueur.
P: Powerful, but tasty and tangy. Lipsmackingly good. Long assertive aftertaste that is not aggressive. Juicy. Maybe should be a little more reserved, but this is a sensual wine with an fine finish and velvety tannin.
Good.
Soutard
N: Oak, candied fruit, and general sweetness.
P: Seems somewhat hollow, but there is a good tannic backbone. Medium-heavy mouthfeel. Pure and refreshing although a little puckery and hard on the finish. Balance is not ideal, but will improve with age. At this time the oak comes through much too strongly.
Good.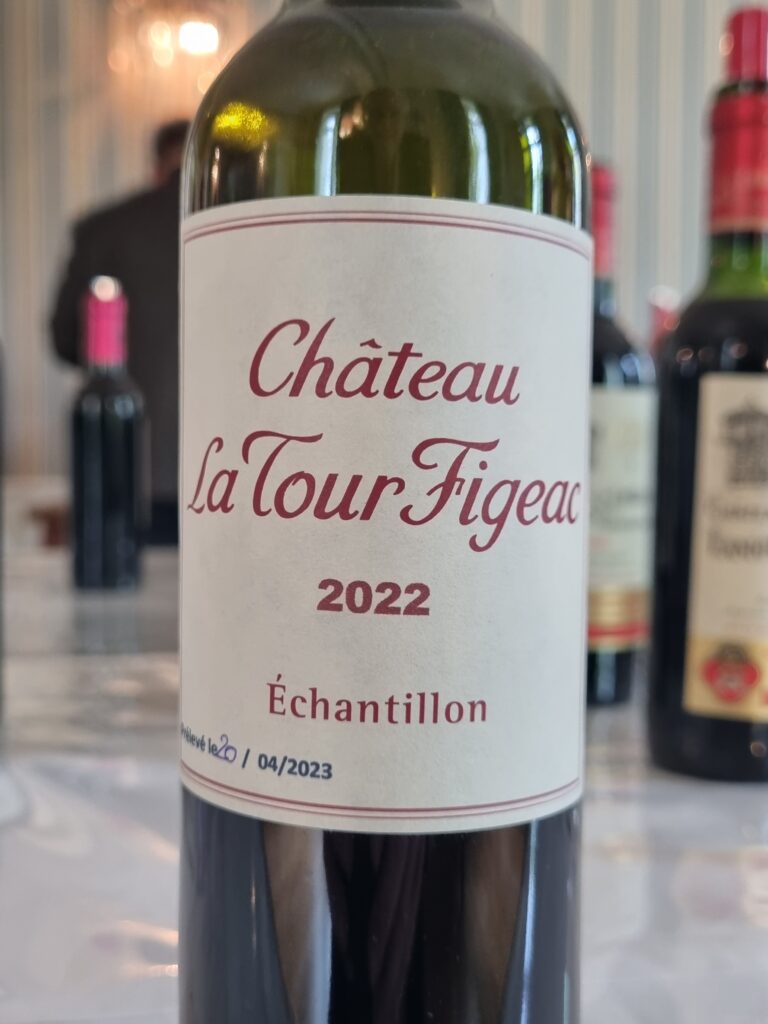 La Tour Figeac
N: Very attractive understated nose showing ethereal black fruit and some spice. Sweet and stylish.
P: Beautifully soft on entry going into medium-bodied roundness and fine-grained tannin. Unfolds seamlessly. Long aftertaste. An unquestionably fine wine, but also a fruity user-friendly.
Good plus.
Tour Saint Christophe
N: Toasty oak, berry fruit and a sweetness that may come more from oak than fruit.
P: Big, chunky, a little hot but the limestone finish adds freshness. Tannin coats the mouth and teeth. Hearty more than refined and rather dry, but this could change with ageing.
Good.

Troplong Mondot
N: Attractive berry and blossom aromas. Sweet and straightforward.
P: Heavy round mouthfeel. A Merlot lovers wine… Fresh, i.e. not top heavy as in some years, but a bit flabby. I acknowledge the quality of this wine, even if it is not a style I especially like.
Good.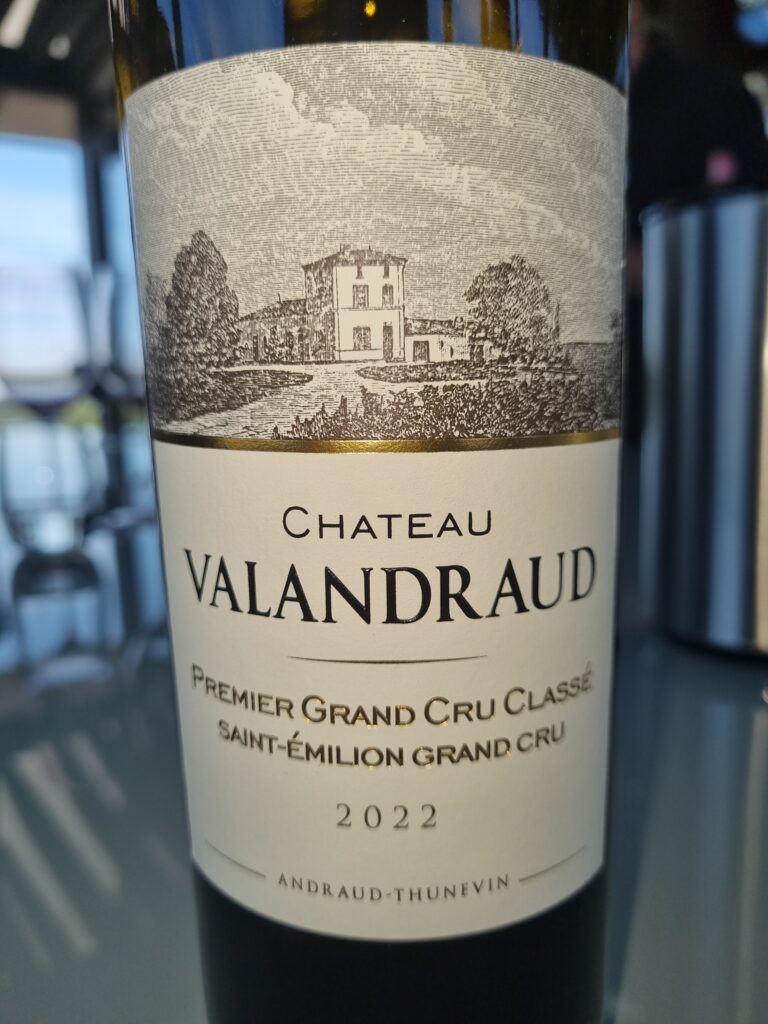 Valandraud
N: Very classy, inky, almost Médoclike. Bright fruit with a touch of greenness along with some winemaking aromas, but very promising.
P: The softness at the beginning is misleading because this is a very tannic wine. An iron fist in a velvet glove. Blackberry and chocolate flavors. Long future ahead.
Good plus.
Villemaurine
N: Cassis and black fruit jam along with some beeswax.
P: Full frontal roundness going into waves of acidity, tannin, and oak. A very big wine lacking distinction, but not a monster either. It weighs in more with power than nuance. The textured tannin on the finish is a pleasure, but I'd have like the wine less mammoth and I wonder how it will age.
OK
Yon Figeac
N: Sweet and engaging, but some fermentation aromas there. Blossom aromas appear with aeration and the nose is altogether very nice.
P: Ripe rich wine with heavy mouth feel. The fruity flavors spread out beautifully on the palate going into limestone minerality typical of the Saint Emilion plateau. Slightly old-fashioned style, but very successful. Not exactly heavy or overbearing, but not for the faint-hearted.
Good plus.