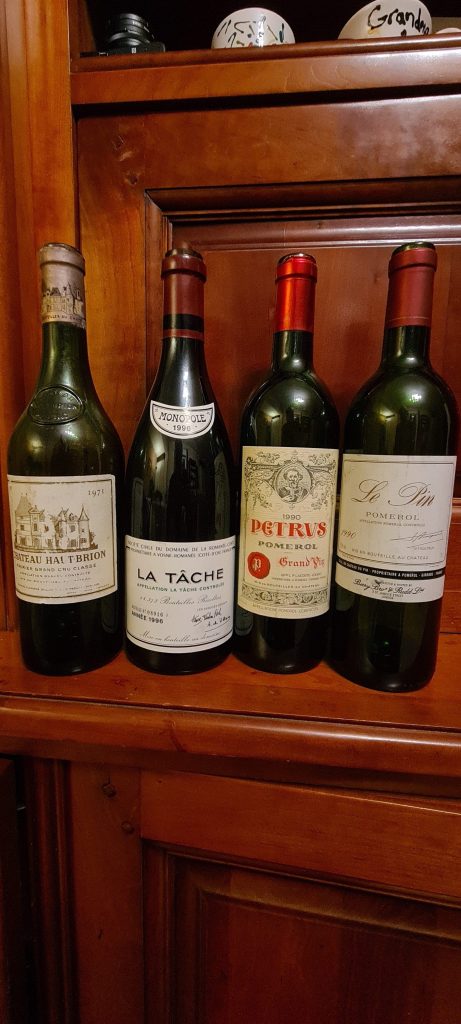 My friend Ian, visiting from London, must have thought it was Christmas and that I had been awfully well-behaved, because he brought with him an incredible selection of wines to share.
All were served blind at the same meal (simple, but good: grilled entrecôte steak) and decanted between 2 and 3 hours before serving.
The first was a 1971 Haut Brion, which I mistakenly thought might be a younger wine from Saint Julien. As the evening wore on I saw the error of my ways because the trademark tobacco leaf aromas were there. Haut Brion's earthy side is well-known, but its expression here was (OK, I'm nitpicking) was not quite as refined as in some other vintages. The tannic texture was also perhaps a little coarser than usual. These niggling comments aside, the wine unquestionably had a monumental aspect, and confirmed that 1971 should in no way be lumped in with a series of lacklustre or downright poor vintages from the early 1970s. This is the quintessential vin de terroir, and definitely more than just alive at half a century. That it should take a back seat to the other wines is no objective reflection of its quality!
Wine number two was immediately identified as a Burgundy by all present. I thought it might be a great Gevrey Chambertin, but no, it was a fabulous DRC, a 1996 La Tâche. The irony here is that Ian had already served this same wine to me at his house a couple of years ago… Anyway, although the color and bouquet were nothing less than impeccable, the wine's pedigree came through in spades most of all on the marvellous aftertaste, with layer upon layer of subtle fruit, along with a strong mineral component. At age 25 this wine is still going strong and has a long life ahead. At its peak? Probably not. The Italians speak of "vini da meditazione". Well, this was it, baby. A wonderful, sensual experience I felt very privileged to enjoy.
The third wine had everyone puzzled. It was unquestionably powerful and classy, but brooding, needing for the various – excellent – components to knit. The texture was wonderful and this was obviously a top-notch wine, but I could not place it. I was amazed to learn that it was the 1990 Pétrus. That was because, on the several occasions I have had a mature example of this rare wine, it was more giving and easy to apprehend. More early-maturing too. The answer here, in my opinion, is simply one of age. This is unquestionably a great wine from a benchmark vintage, and in the rarefied category of those requiring decades to fully strut their stuff. The word 'fully' is important here, because this was a wonderful experience and a treat.
Last, but not least, the 1990 Le Pin (same vintage) was showing even better than its illustrious neighbour on this occasion. Believe me, I felt extremely fortunate to be able to compare them side by side! Not only is Le Pin expensive, it is also quite rare, with just 2 hectares of vines (La Tâche has 5). I did take Le Pin for a Pomerol because of the truffle nuances on the nose, but got no further than that on the blind tasting. This wine had everything going for it: a bouquet you could nose all night and a palate to die for. While that is not a particularly accurate tasting description, words can hardly do justice to the purity, balance, and intensity of this superb wine. The French say "perfection is not of this world". That having been said, I'd be hard put to find any shortcoming in this delicious wine. It is at the very tip of the Bordeaux hierarchy, and was a memorable bottle.
This was the sort of evening you do not forget…