When I first arrived in Bordeaux, the word going round was that Fronsac was the up-and-coming wine region, and was headed for great things. However, this never really materialized. Then a similar buzz was heard about Castillon. I must admit to feeling there is more potential for the latter appellation, not only because it's so much bigger (2,300 hectares compared to just over 1,000 for Fronsac and Canon-Fronsac), but because the wines are more appealing to the general public.
Although "Castillon, Côtes de Bordeaux" is not exactly a household name, it has long been a treasure trove of good-value Bordeaux beloved of connoisseurs. Historically, the appellation was known as "près-Saint-Emilionais", and the geographical proximity with Saint-Emilion is unquestionably reflected in the wines. Let's be clear: a good Castillon is better than a ho-hum Saint-Emilion, and has a much lower price tag to boot.
In fact, Castillon is where to bring people who moan that Bordeaux is too expensive or Burgundy lovers with blinders on. This is where you can find worthwhile wines for as little as 7 or 8 euros a bottle and truly delicious ones for not much more. And I'm talking about really good wine here.
Bordeaux has Portes Ouvertes ("Open Days") in most major appellations. These are marvellous opportunities for anyone who's interested in visiting châteaux, meeting the winegrower, sampling the wine, and either buying or not as one sees fit. Absolutely no pressure is brought to bear. The Portes Ouvertes in Castillon Côtes de Bordeaux took place on Saturday the 5th and Sunday the 6th of September. The number of participating estates was relatively limited (17), but included a good cross-section of the appellation.
I went there on Sunday with an American friend, author, and fellow blogger, Tom Mullen: http://vinoexpressions.com/about-wine-and-work/
We visited 7 châteaux and had a wine lunch at Château Pitray. Here's a brief rundown of the experience, which I can strongly recommend.
Our day started off with Château La Fleur Poncet in Gardegan-et-Tourtirac, where we were greeted by Madame Elisabeth Rousseau-Rodriguez, Vice-President of the Castillon winegrowers association, and her husband. This 10-hectare estate, in the family for the past two centuries, is located 7 km from Saint-Emilion and within sight of Château Michel de Montaigne in the neighboring Bergerac appellation. The predominately Merlot grapes were in excellent condition and had already reached a potential alcoholic degree of 13.5° on the 6th of September! So things were looking very good – as opposed to 2013 when a hail storm virtually wiped out the entire crop… The estate makes two wines, the regular cuvée and Mon anGe, an anagram of her children's names. The latter is 100% Merlot, made from 35 year-old vines, and aged in new oak. My favorite wine was the 2010 La Rose Poncet.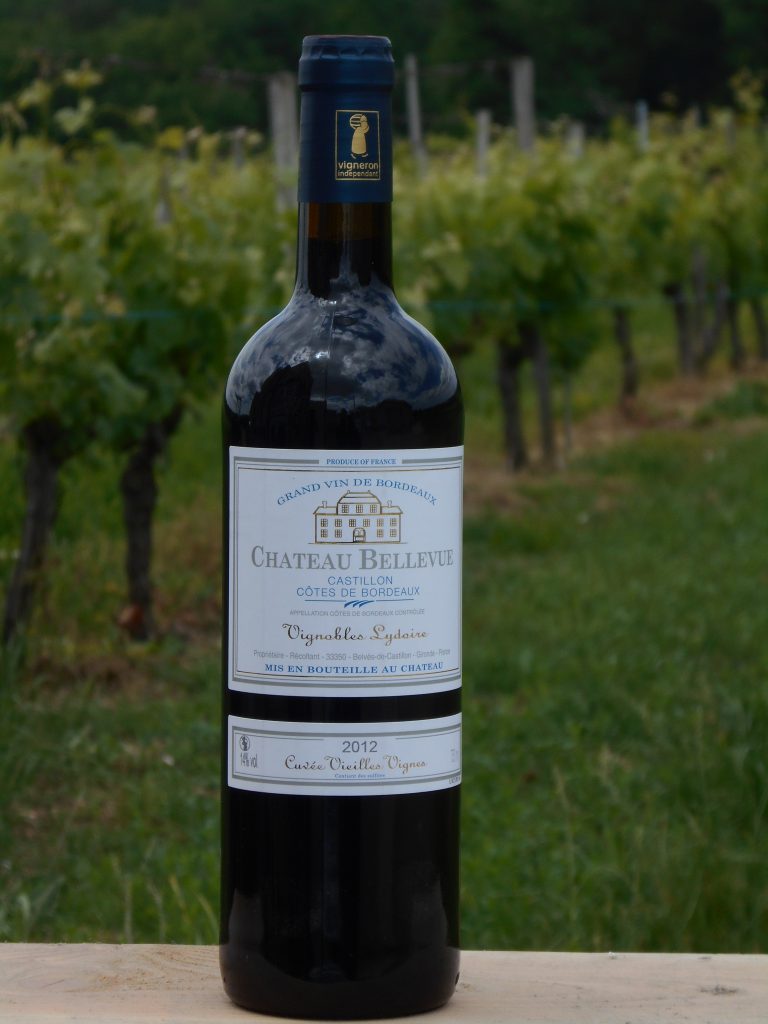 The next stop was Château Bellevue in Belvès-de-Castillon. This 12.5 hectare estate is owned by the Lydoire family. They have a higher-than-than usual percentage of Cabernet Franc: 25%. We tasted their quaffable 2012 Bordeaux Supérieur and interesting 2012 vieilles vignes from Castillon, as well as the unusual 2011 Cémacuvée, made in a successful ripe, oaky, modern style.

The last stop before lunch, one of the best of the day, was at Château Lapeyronie in Gardegan-et-Tourtirac. When we arrived, we were somewhat surprised to see three gendarmes in the cellar and I quipped that, honestly, I had spat everything out so far! I don't think the same could be said of them… Furthermore, they were from Burgundy, whose wines were obviously much better than ours ;-). Anyway, we were welcomed by Hélène Thibaut, a professor of viticulture and oenology and partner of Jean-Frédéric Lapeyronie. He looks after the vines, and she's in charge of the cellars. The 2012s we tasted were among the best all day, and the prices quite reasonable. Several nice surprises were in store for us. One was an excellent Côtes de Francs with a nice tannic texture to round out the fleshiness of the Merlot – the best Francs I can ever remember tasting. The other was an exceedingly rare 100% Carménère. This is sold as vin de table français, presumably because it is considered a secondary rather than a primary grape variety. Not only rare, the wine also happens to be quite enjoyable with a peppery bouquet – quite the wine to baffle someone at a blind tasting! And as if this weren't enough, Lapeyronie also makes a wine with zero sulfur, a so-called natural wine. Despite my scepticism, I had to admit it was good, and commend the estate for branching out and doing unusual things.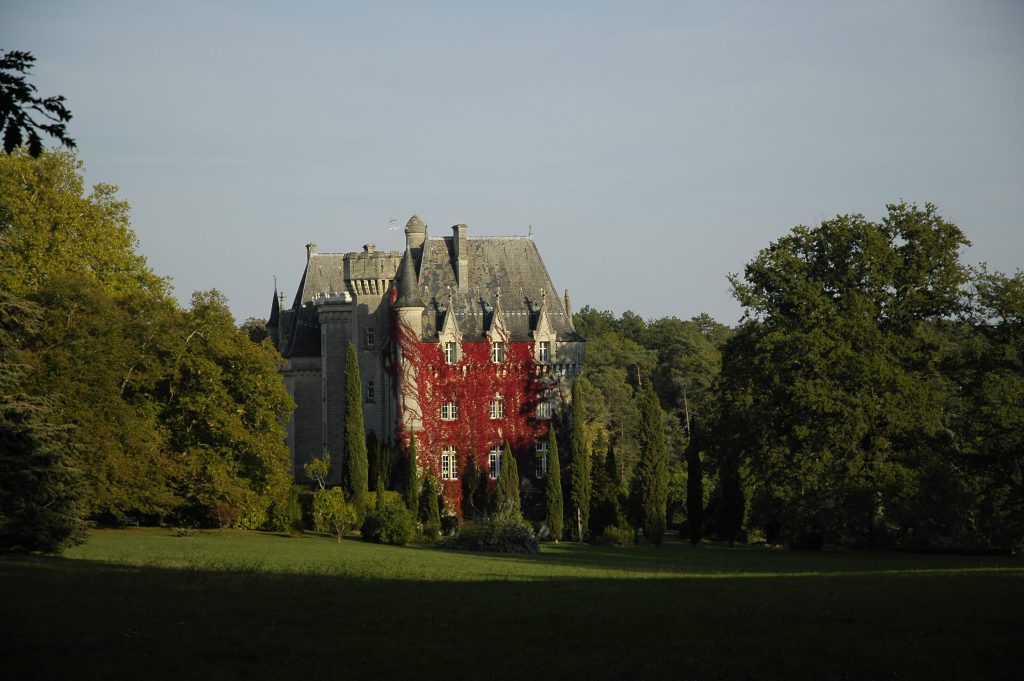 Lunch was an outdoor affair open to the general public on the beautiful grounds of Château Pitray. Several hundred people attended and, fortunately, the weather cooperated. We skipped the tasting part of the event and sat down to enjoy the inevitable grilled entrecote steak with a sturdy 2009 Cuvée Madame from Pitray (aged in new oak) and a previously enjoyed 2012 unsulfured Château Lapeyronie.
After lunch, we met with Madame Françoise Lannoye, President of the Castillon winegrowers association and owner of Ch. Moulin de la Clotte. The affable Mme Lannoye, who speaks very good English, talked to us about the appellation. She feels that joining forces with the other Côtes de Bordeaux (Bourg opted out) for promotional and marketing efforts was the right move.
Furthermore, she explained that Castillon benefits greatly from tourism. The battle ending the Hundred Years' war was fought here, when the forces of King Charles VII of France defeated John Talbot, Earl of Shrewsbury (yes, who gave his name to Château Talbot in Saint Julien), thus ending three centuries of English rule over the Aquitaine region.
A much-acclaimed re-enactment of the battle is held throughout the summer: http://www.bdc-server.com/index_UK.html
Battle monument
Talbot's tomb
There are also a number of medieval castles in the region and a Maison du Vin in Castillon (population 3,000) – whose full name is Castillon-la-Bataille

Madame Lannoye said that Castillon is sold mostly in France, but also exported to Belgium, England, and Japan. She also places hope in the US market. When you see the value for money these wines represent, they should do really well in America. However, there is somewhat of an image problem: not a bad image, but rather a lack of image altogether. The Côtes group are working on this as much as their budget allows.
We visited three more châteaux after lunch. Most of these were in "hop, skip, and taste" mode 🙂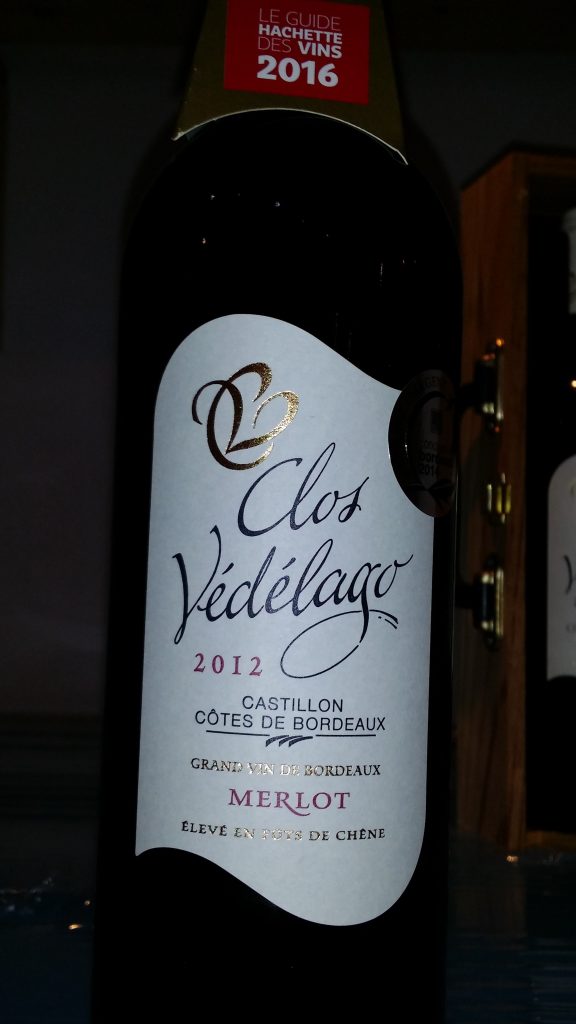 The first of these was Clos Védélago. A roofer by trade, Jean-Paul Védélago bought 2.5 hectares vines in 2004. He brings grapes from two of those hectares to the cooperative in Puisseguin-Saint-Emilion. The remainder (exactly 0.47 hectares!) are in the Castillon appellation. These are used to make a luscious 100% Merlot wine. We tasted through 5 vintages (2010 to 2014). The ones I liked most were the 2014 and 2012. His wines have received medals and been cited as Coups de Cœur ("special favorites") in the Guide Hachette.

We then went on to Château Château Les Fleurs de Trentin in Sainte Colombe, who grow their grapes organically. We enjoyed their 2012, what the French call a vin plaisir, i.e. an up-front, seductive, easy-drinking wine. The 2009 Cuvée Nathanoé was a little rustic, but showed a strong personality. We tasted the estate's cuvee prestige in the 2008 and 2009 vintages, much preferring the former.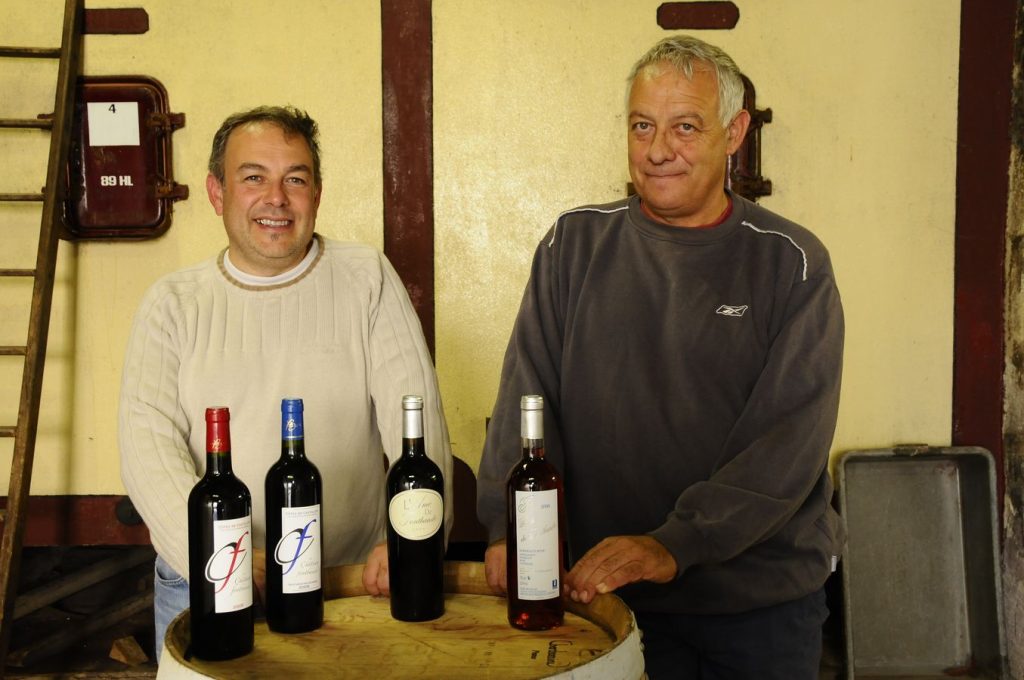 Pélerin de Fonbaude
L'Ame de Fontbaude
Our final visit of the day was to Château Fontbaude in Saint-Magne-de-Castillon. We arrived to see Christian sitting in the shade of a large tree behind a table with several bottles, in a beautiful and infinitely calm setting. We tasted the 2014 Pélerin de Fontbaude, a delight to drink young, followed by the 2010 Fontbaude and the 2012 cuvée vieilles vignes. The star of the show was 2011 l'Ame de Fontbaude a rich, fruity wine with a sinewy, silky texture, great aromatics, and some fine spicy nuances.
Thus ended our day in Castillon Côtes de Bordeaux.