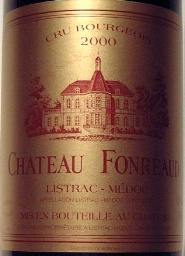 2000 Château Fonréaud, Listrac
I've long been a fan of Fonréaud and its sister château across the road, Château Lestage, both owned by the Chanfreau family, who made wine in Algeria before they came to the Médoc.
Listrac is a small appellation that does not have much of an identity with wine lovers. There are nevertheless some fine estates there. Fonréaud has 38 hectares of vines (52% Cabernet Sauvignon, 45% Merlot, and 3% Petit Verdot). The château also makes a rare white Médoc (AOC Bordeaux) Le Cygne Blanc.
I opened this 2000 (red), figuring that most mid-range Bordeaux from that vintage is ready to drink. As it turns out in this particular instance, the wine probably would have been better a few years ago…
The color was showing its age, and then some, with a brown rim. The bouquet was the best part of the wine, showing sweet, subtle fruit and some humus overtones.
The taste was of aged Cabernet, in an old-fashioned style. The rich, velvety attack proceeded to turn dry, grippy, and austere, without the richness one would hope for in this great vintage. This is the sort of wine that is fine with food, but judged on its own, I would have to be fairly severe. Of course, this is a reflection on one wine, not on the estate as a whole. It makes me want to try a younger vintage soon!
2004 Château d'Issan, Margaux
Dating back to the 17th century, Issan is one of the loveliest châteaux in the Médoc. The estate's history goes back to the Middle Ages. As one of ten third growths in Bordeaux, its reputation is better than most. Associated with the Cruse family since 1945, a new partner appeared in 2013 when Jacky Lorenzetti (owner of Ch. Pédesclaux in Pauillac and Château Lilian Ladouys in Saint-Estèphe) acquired a 50% shareholding.
Coming to the conclusion that most 2004s are ready to go, I opened and decanted this 2004 d'Issan two hours before drinking. The color is of medium intensity. There's still some purple there, and good legs. The nose is sweet and ethereal, with humus, raisiny, and menthol nuances, as well as a pronounced smell I can only describe as lead, which I tend to attribute to appellations further north… As beguiling as the nose is, the wine disappoints on the palate, which is medium-long and refreshing, but dips on the middle and becomes angular. The lead aromatics follow through. This wine is like an overly thin top model. It will hold for quite some time thanks to the acid backbone, but will always lack generosity and richness.
2004 Château La Bessane, Margaux
Martine Cazeneuve is the driving force behind the 32-hectare cru bourgeois Haut-Médoc, Ch. Paloumey in Ludon, between La Lagune and Cantemerle. I've always been a fan of Paloumey. Madame Cazeneuve also owns 3 hectares in Cantenac, in the Margaux appellation. Ch. La Bessane is little-known because it is so small. It is also off the beaten track because it has a very unusual mix of grape varieties: 50% Petit Verdot (!), 30% Cabernet Sauvignon, and 20% Merlot.
The 2004 is a very deep purplish-red and a little fuzzy on the rim. My notes for the nose come in two stages. After two hours in the decanter, the bouquet was rather dumb, with caramel overtones. However, after another 4 hours it was singing, with pure, subtle, seductive, black cherry and pipe tobacco aromas. My better half tasted the wine blind and did not think it was a Bordeaux. I'm not really surprised because one doesn't often come across such a huge percentage of Petit Verdot. The wine seemed big and brooding on the palate at first, but with increased aeration showed a sappy cherry quality, followed by an acid zing. Although many of the 2004s I'm drinking are not going anywhere, 2004 Ch. La Bessane definitely has more to deliver in the coming years.