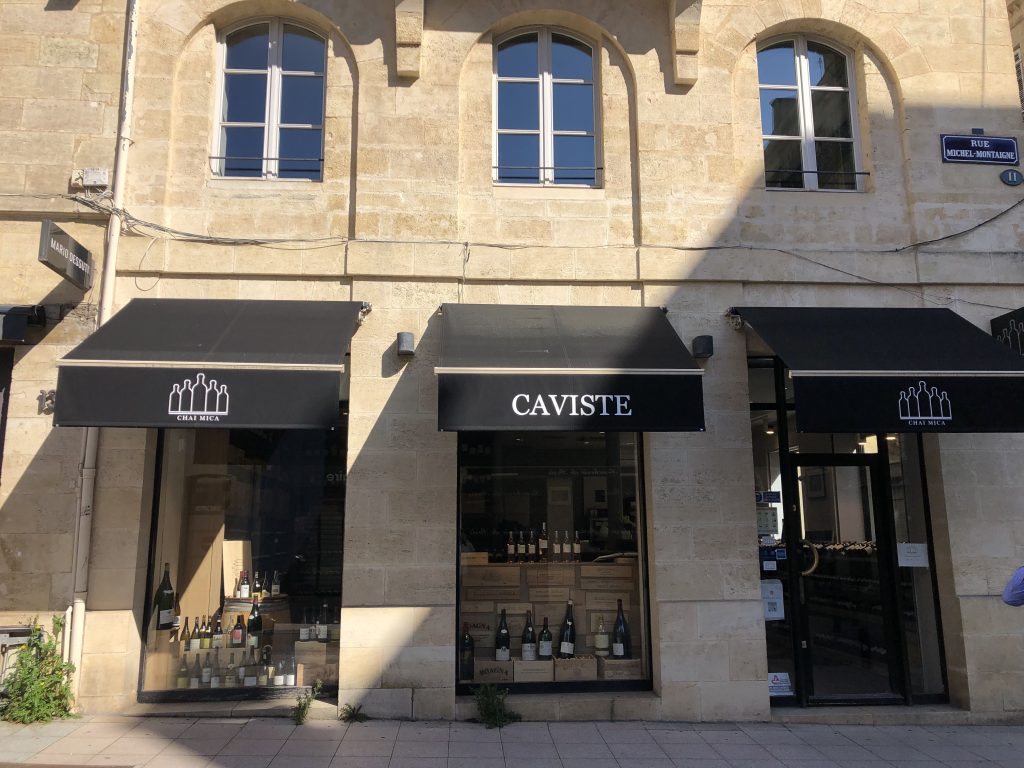 Chai Mica is a play on words. Chai (a word meaning wine cellar, rather than cave, in the west of France) is pronounced the same way as "chez" and Mica is short for "Michael", as in Michaël Llodra, who founded the business. I say business because Chez Mica, is more than just a shop. It is also a showroom, tasting venue, and office for a thriving fine wine business.
Michaël, in his early forties, is a former professional tennis player who has long loved fine wine. His associate, Christophe Jacquemin-Sablon, has sales experience with Roederer Champagne and managed Pétrus for 6 years.
To begin with, their business model was limited to helping winelovers without the time or expertise to build up a cellar, starting with a budget of 10,000 euros. This venture was enhanced by the fact that Burgundy, in particular, is a very difficult wine to purchase, and because Michaël had established close links there, succeeding in obtaining allocations as rare a hen's teeth from some of the region's most famous domaines.
But, let's focus on the shop. Chez Mica is located at 13 rue Michel de Montaigne in Bordeaux. This is inside what the Bordelais refer to as the Golden Triangle formed by three streets – Cours Clemenceau, the Allées de Tourny, and Cours de l'Intendance – with the circular Place des Grands Hommes in the middle. This is in the heart of the city, where the chicest boutiques are located.
Featuring wines from some 70 Burgundian domaines, as well as Corsica, Piedmont, the Rhone, and even a few Bordeaux (!) the shop opened six months. As a long time Bordeaux resident, I was totally amazed to discover a place featuring such a fine choice of Burgundy. This is indeed proof that the navel-gazing attitude so prevalent in the past has changed.  And, contrary to popular belief, the Bordelais do not look down their noses at Burgundy – it's that they simply do not know it.
Until recently, fine Burgundy was difficult to find locally. That has now changed thanks to Chai Mica.
The shop also started a club two years ago prior to the opening of the shop. A membership fee entitles members to take part in ten tasting dinners a year with famous winemakers (Olivier Krug is scheduled in November) as well as a reduction on their purchases. Members are located in France and abroad.
I was particularly struck by the breadth of Chai Mica's selection of village wines, proving that, if carefully chosen, good Burgundy can still be relatively affordable. The range of premier and grand crus is fascinating and I defy anyone who loves the wines of the Côte d'Or not to at least salivate, if not give into temptation…
Among other domaines, you can find the wines of Bruno Clair, Comtes Lafon, de Montille, Sauzet, Carillon (a member of the family works at the shop), Roulot, Lafarge, Arlaud, Clos de Tart, Dujac, Mugnier, Trapet, Méo-Camuzet, etc.
Chai Mica does not sell over the Internet, so you'll have to visit the shop to see their wonderful range of wines . Prices are reasonable.