Many wine dinners start out with a glass or two of Champagne, but people rarely give this more than passing mention when remembering the line-up of wines they have tasted. I think this is a pity, so I'll break the mold and give special praise to a 1996 vintage Champagne from Charles Heidsieck.
I have a soft spot for Charles Heidseick (owned by the Descours family, along with Piper Heidsieck, since 2011) because I did a six month internship there in Reims when I was a college student.
I honestly think that this is one of the best grandes marques available today, from the Brut Réserve on up.
1996 is widely considered a fine vintage, and Mr. Parker rates it 97/100, considering it "slow to mature".
The wine we had was in excellent shape, neither too young nor too old. The color was medium-gold and the bouquet was wonderfully subtle: slightly biscuity, understated, sophisticated, and sexy. The wine followed through in much the same way on the palate, with not a hair out of place, and a long, cool aftertaste. Wonderful.
Our guests that evening were Jakai Zhang (Ch. Le Bon Pasteur in Pomerol), Nerissa Chen (Ch. Kirwan), and Denis Darriet, owner of Ch. Seguin in Canéjan (appellation Pessac-Léognan). Feedback was very positive about the upcoming 2015 vintage which started today, August 24th, in Bordeaux for grapes destined to make Crémant.
The first course was accompanied by a 2002 Corton Charlemagne from Domaine Bruno Clair. This also had sentimental value to me since it was a gift from the winemaker, Philippe Brun, whom my wife and I met when we lived in the Napa Valley years ago.
Mercifully, the wine did not suffer from the Burgundian blight of premature oxidation (I had two back-up bottles of chilled white wine just in case). The color was pale gold and the nose ultra-classic and exquisite. Not even an inkling of oxidation. Rather than hazelnut overtones I often find in white Burgundy, there were fine almond nuances. The wine surprised me by being not very rich on the palate, but it lived up to its grand cru status by the way it so gracefully evolved into a super long aftertaste, with controlled power. This wine is delicious now, but has the stuffing to age much longer.
Enough to restore one's faith in white Burgundy.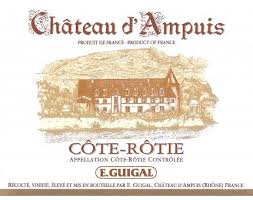 I am a great fan of Côte Rôtie, and have attended the Marché aux Vins in Ampuis (http://www.marche-aux-vins-ampuis-cote-rotie.com/) on three occasions. I very much recommend this 4-day event, with the proviso that you go on Friday and/or Saturday morning. Seeing as it is open to the public, there are simply too many people thereafter. Among a host of other wines, I bought two bottles of 2007 Château d'Ampuis 4 years ago at the Guigal stand. This was one of the most impressive wines I tasted all day.
Seeing as I had two bottles, I thought I would try one on the young side to see how it was doing.
The color was very deep and vibrant and the nose had the tell-tale aromas of fine Côte Rôtie: violet, black pepper, and even a smell of blood and raw meat (not as gruesome as it sounds). Despite what one may read in wine books, I tend to think of Côte Rôtie as a feminine wine. However, this one was fairly butch and had plenty of energy, vigor, and ageing potential. Yes, I will wait a long time before opening the second bottle.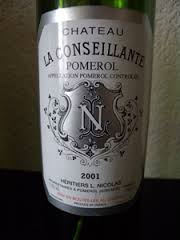 The wine with the cheese course was 2001 Châteu La Conseillante. This was served blind, and most people thought it from a more recent vintage. The color certainly looked younger than its age and the nose had the trademark humus and truffle aromas of the finest Pomerol. The wine was luscious on the palate and very rich, but not overpowering or alcoholic – the balancing act of the finest Bordeaux. The texture was funky, velvety and even what I call "furry". The aftertaste was assertive and featured deep black fruit nuances. As good as this was, the wine will improve further. It also confirms the good opinion I have of the 2001 vintage – and Château La Conseillante.