As mentioned below, I belong to a virtual community based in several countries called www.bordeauxwineenthusiasts.com
Along with a friend in Paris and others in London and the US, I organized a 5-day tour of top-flight Bordeaux châteaux for 18 people.
This took a great deal of planning, months in advance, but was well worth the effort.
We started off with Château Palmer. All my Bordeaux-loving friends adore Palmer, and I'm not about to disagree. It is not rare for me and others to find Palmer better than Margaux in certain vintages, and such was the case with 2014 in my opinion. Anyway, we were shown around by Céline Cassat, and I give her full marks for starting out in the vineyard, explaining the lay of the land, the estate's winegrowing philosophy and, of course, their recent turn to organic and biodynamic viticulture. This was as opposed to most châteaux that only show visitors their cellars.
Palmer has been entirely renovated and is clearly in full swing. The grounds are beautiful, the château looks great, and the cellar is now magnificently-equipped.
We tasted 2011 Alter Ego and 2006 Palmer. The former was smooth and is in an early-maturing, more commercial style. The latter had velvety tannin and good grip, and will also show well before too long.
We went from Palmer to 5th growth Château du Tertre, which has belonged to Dutch businessman Eric Albada Jelgersma since 1997, as has 3rd growth Château Giscours. Several members of the group had specifically asked to go to du Tertre because the wine offers such excellent value for money. We were very well received by Marc Verpaalen and not disappointed with what we tasted. After sampling the elegant and fairly forward 2012 du Tertre and 2012 Giscours, we went for a light lunch on a beautiful veranda overlooking a swimming pool and the château.
You have to admit that Bordeaux does some things extremely well…
The wines we had at lunch were 2009 du Tertre, 2006 Caiarossa from Tuscany (also owned by Eric Albada Jelgersma), 2014 Giscours and du Tertre, as well as 2004 Giscours. The 2014s are very promising and the 2004 was good for the vintage and ready to drink now.
Marc informed us that since the owner's son is allergic to red wine, Château du Tertre will be soon be producing a white wine.
While organizing this trip, I learned that the first growths now limit the number of visitors, which made planning things a little hairy. Such was the case with Château Latour, who accept no more than 10 people. However, much to their credit, they agreed to welcome two groups in succession.
While the first group visited Léoville Las Cases, the other half, including myself, went to Latour. Like many top-flight châteaux, they have expanded and renovated their cellars, which are now in tip-top condition. We were first of all ushered into a room to watch a film about the château. This had tinkly faux-Zen music and didn't seem particularly to focus on Latour rather than any other wine estate. Once past this rather boring introduction, we went on a guided tour. The facilities were as impeccable as one would expect at a first growth. We also admired their new wine library, with magnums going back a very long way. The tasting room is wonderful, and we sampled three wines there: the 2011 Pauillac, the 2008 Forts de Latour, and the 2004 Latour. The Pauillac was very attractive, Les Forts lacked some richness and concentration, but was still quite nice, and the Latour proved to be lovely with fine textured tannin. It is also quite enjoyable to drink now. No, you don't always have to wait decades to drink these wines, even if that is the case in great years.
After Latour, I went with half the group to Château Gruaud Larose. This was a wonderful visit. It started out with a trip up a steel tower that has just been built to house an observation post and a visitor reception center. This affords a fantastic view of the estate and the surrounding countryside, including manicured grounds and gardens. We were taken around the cellars by winemaker Stéphanie Lebaron Bouchonneau. As always, it's the person and not the surroundings, however luxurious they may be, that makes visiting a wine estate memorable. Stéphanie is charming, relaxed, funny and, above all, extremely competent. She poured us a number of wines. 2014 Sarget (the second wine) was simple and nice, 2014 Gruaud Larose quite tannic and promising, 2006 GL a little too oaky, and 1998 GL – 17 years old – perhaps a little dry, but at its peak and very enjoyable. It is a treat and a rarity to drink a wine that old when visiting a Bordeaux estate.
Afterward, we went to Château Léoville Barton, where Liliane Barton welcomed us warmly, despite the fact that we were not on time… Liliane's family have owned Langoa and Léoville Barton since the 1820s, and are definitely part of the Médoc aristocracy. However, Llilian is a relaxed, down-to-earth person and very much a philosopher in her own way. Trends come and go, but the Bartons have nearly two centuries of experience in making fine wine, and so are very circumspect. For instance, Liliane is against green harvesting because she feels that what works one year complicates things the following year. We started out by tasting the other Barton estate, 2011 Château Mauvesin-Barton, which I have talked about elsewhere on the blog. We then sampled 2012 Langoa Barton which, like some other wines from this vintage, was already showing very well. The 2014 Léoville Barton was sweet and seductive on the nose, lacking perhaps just a touch of weight and richness to back up the structure. It is nevertheless a fine, classic wine.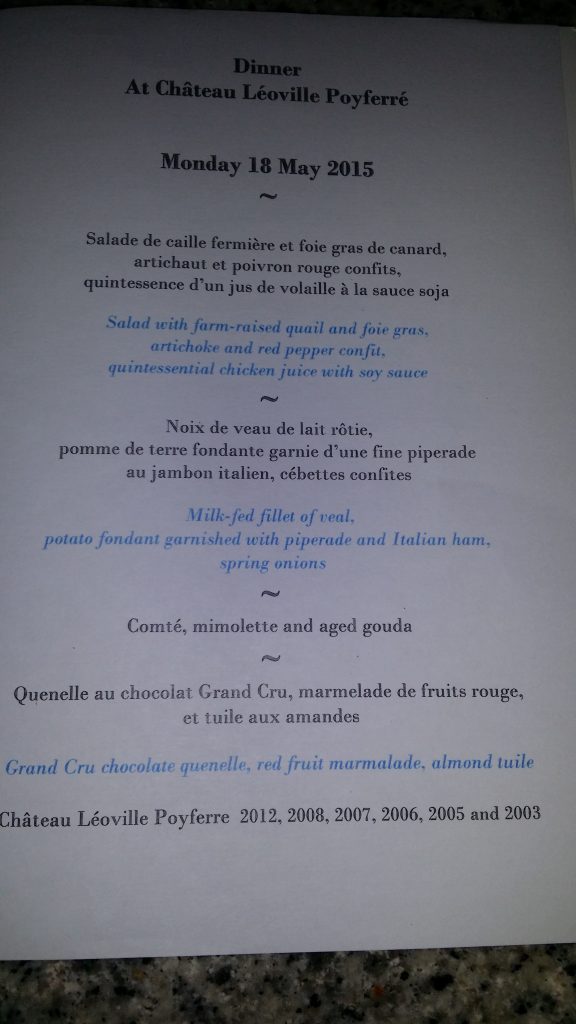 The final château that day was Léoville Poyferré, where we were welcomed by the bubbly Anne Cuvelier, who speaks good English and clearly enjoys explaining the ins and outs of winemaking. The group had dinner at the newly-refurbished château (a recurring theme, as you can see).
If you have read this far, please note that all of the above was in just one day, which is about the maximum anyone could possibly fit in!
We tasted the wines at dinner rather than beforehand. The 2014 Moulin Riche was light, fruity, upfront and – unsurprisingly – less serious than the grand vin. The 2012 was better than expected and I am not far from thinking that 2012 may actually be better than 2011 in many instances in the Médoc. The 2008 Léoville Poyferré had a fine ethereal nose and lovely blackberry flavors on the palate. The 2007 was light and refreshing and the 2005 was deep and classic, with rich berry fruit.