People in Bordeaux rarely have more than a passing acquaintance with Burgundy, but I try as best I can from so far away to understand this fascinating region that, yes, makes wines on a par with the finest of Bordeaux. In fact, pitting one of France's great wines against the other is plain foolishness in my opinion. I, for one, like both enormously!
Seeing as I had amassed a number of wines from the Clos de Vougeot over the years, I decided to invite several friends to a tasting dinner. There were 12 of us altogether. Traveling from Paris, Tim Mc Cracken added three wines to mine, and Ian Amstad from London brought two as well. That made a total of 18 wines. I have only ever heard of one such large scale tasting of Clos de Vougeot in Bordeaux. This was organized by Frédéric Engerer of Château Latour, whose boss had recently purchased Domaine de l'Eugénie (who produced one of the wines we tasted).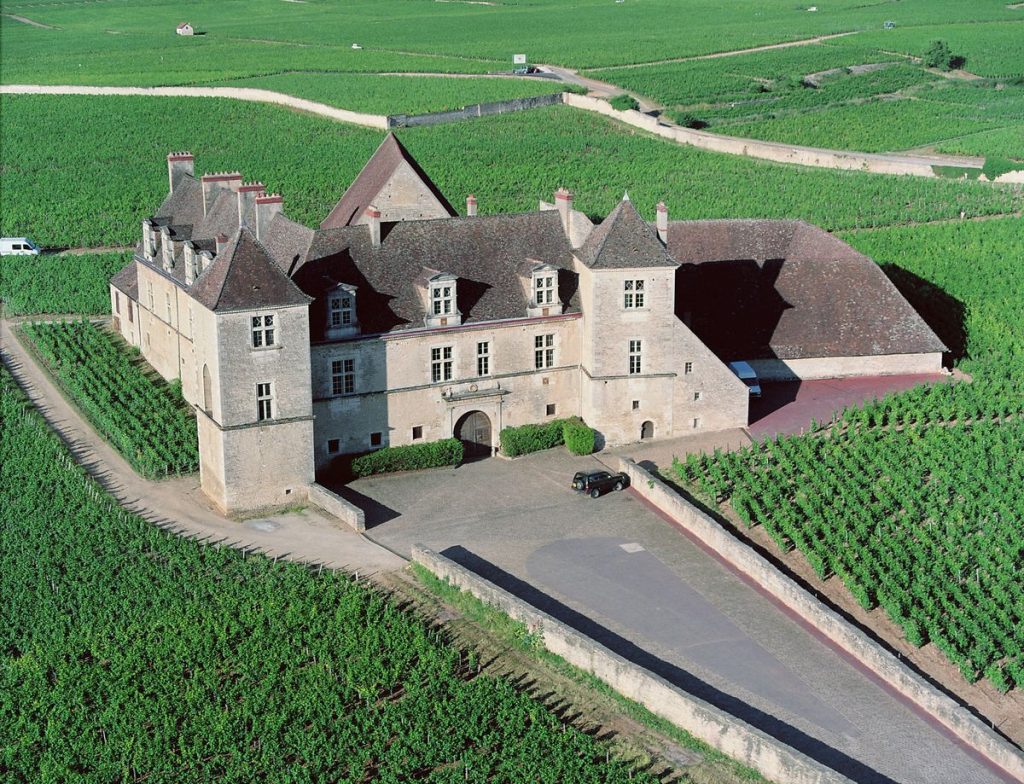 A description of Clos de Vougeot (or Clos Vougeot) can be found in any comprehensive wine book. Wine was made here by Cistercian monks starting in the 12th century and the medieval château is one of Burgundy's most famous landmarks. This was bought by the Chevaliers de Tastevin in 1934 and is the setting for countless tastings and banquets.
Exceeded in size only by Le Corton (97.5 hectares), the Clos de Vougeot is the second largest of all the 36 grands crus in Burgundy (Côte de Beaune and Côte de Nuits). The 50 hectares are divided among 82 owners. Considering the variety of soil types, position on the slope, and different winemakers, there is enormous variation.
The tasting was not conducted blind and, for the grand cru, went from youngest to oldest.
We started off with a village wine, a 2014 Les Petits Vougeots, from Château de Charodon. The labels say that just 715 bottles were made. This was fairly light in color. It was slightly musty on the nose, which showed a little sulphur and not much else… The wine was very light and thirst-quenching on the palate with little body. A minor Burgundy that's fine to drink now. Not a noteworthy village wine by any means. OK.
The next flight, if you can call it that (just one wine) was a 2009 premier cru, Clos de la Perrière, a monopole (exclusivity) from Domaine Bertagna. This proved to be the biggest surprise of the tasting.
The color featured a thin mahogany rim and there was a lovey nose of ripe Pinot, roast coffee, and a touch of alcohol. The wine started out very well on the palate before evolving into a very attractive candied black fruit aftertaste with notes of leather and earthiness. The finish was deliciously appetizing. Re-tasted the next day, this premier cru was still in great shape and I was not alone in finding it better than at least half of the grand cru wines we tried.
Very good, and I'd like to visit the domaine one day.
Grand cru (16 wines):
2011 Domaine Daniel Rion
C: Medium-deep and just starting to show some browinsh highlights.
N: Very musky with some leather notes and definite sulphur.
T: Starts out silky and rich, but then becomes somewhat dilute. Picks up again on the aftertaste with pure fruit. Lacks breadth, but there is depth there. Lingering aftertaste. Good plus.
2010 Domaine Gérard Raphet
C: Rather watery with a weak core and some browning on the rim.
N: Smells older than its years and although not very expressive, there are some cranberry and fruit jelly aromas, as well as some tertiary notes there. However, the bouquet lacks oomph.
T: Seems slightly diluted at first, but then goes on to show a silky texture and the wine's class comes through on the aftertaste. Worthwhile potential, but should have more energy at this stage. Good
2009 Domaine Chantal Lescure
C: Even brownish-red color. Looks too developed for a 9 year-old wine.
N: Sulphur, musky, leather, and somewhat meaty nuances.
T: Ripe berry fruit with a certain seriousness and weight on the palate. A clear alcoholic presence on the candied black fruit aftertaste. Disappointing up until that finish, which however justifies the wine's grand cru status. Good.
2009 Domaine Louis Jadot
C: Much more youthful color than most of the wines with purple highlights.
N: Fresh, but alcoholic bouquet showing the wild, unbridled side of Pinot with some black fruit jelly aromas.
T: Displayed considerable weight and more tannin than most. Clearly too young, but promising. Well-made and elegant. Quite a long aftertaste. Needs plenty of time to come together. Very good.
2008 Domaine Hudelot-Noëllat
C: Looking a bit tired.
N: Very developed, subtle, earthy, and funky.
T: Starts out a little weak and then shows some guts with a long aftertaste. There's nevertheless an imbalance here, but it's not great. A wine that has prematurely aged. Good.
2008 Domaine de l'Eugénie
C: Not deep, but vibrant and more dynamic and youthful than most.
N: Roasted aromas and some menthol. A little exotic. Pure, fresh, and unusual. A more modern style?
T: Bright black fruit with fine acidity to provide a good backbone and length. Long, lingering aftertaste. Perhaps too much oak, but this one is made for the long haul and it may very well integrate. Very good.
2008 Domaine Tortochot
C: Good, deep, dark purple and crimson.
N: Some sulphur, but there's also fruit in the background. Too much oak comes through in roast coffee aromas.
T: Chewy, big, but clearly out of balance. Does not have the class of a grand cru. Charitably: good.
2008 Domaine Lamarche
C: Bit dull, but OK.
N: Sulphur, but also good Pinot fruit, showing some of the variety's wild side with overtones of leather and terroir.
T: Spherical but somewhat hollow. And OK finish, but I was expecting a more vigorous expression.
Good.
2006 Domaine Jacques Prieur
C: Lovely deep color with a thinning brownish rim
N: Unusually powerful candied fruit aromas. Altogether penetrating bouquet.
T: Caressing texture on the palate. Strong mouthfeel. Big, somewhat old-fashioned style of Burgundy with a long aftertaste. Well-made. Great ageing potential. Very good.
2006 Domaine Daniel Rion
C: Good for its age with some definite browning on the rim.
N: Roasted, earthy aromas, but not enough fruit.
T: The finish is a bit hot and harsh. However age may even this out, because that harshness may be a sign of promise, i.e. ageing potential. The afteraste is puckery, then hard. Good plus.
2004 Domaine Daniel Rion
C: Thin browning rim.
N: Green, green, and green. Unroasted coffee beans.
T: Oops, green meanies here. Herbaceous. Not successful.
2002 Domaine Joseph Drouhin
C: Medium, about right for its age.
N: Lovely ripe Pinot nose. Balanced and classy. Made me sit up and take notice.
T: Sweet fruit. Juicy. Fine long aftertaste. A joy now or in years to come. Excellent.
2002 Domaine Lamarche
C: Rather wishy-washy
N: Odd with a touch of vinegar
T: That acetic quality carries over onto the palate and there was some discussion as to whether the wine was corked or not too. Not rated.
1998 Domaine Méo-Camuzet
C: Very pale, going on rosé!
N: Sulphur and brett. Not pretty.
T: Off, over-the-hill. Not rated.
1991 Château de la Tour
C: Good for its age.
N: Cosmetic and subtle with a soupçon of liquorice. Seems more interesting than good at first. As the Italians say "a wine of meditation". Surprisingly long aftertaste. Old but worthwhile. Good plus.
1977 Jean DeLaTour, négociant à Beaune
C: Burgundy going into Madeira!
N: Very ethereal. Rose petal and… soy sauce aromas.
T: Soft, with some iron oxide nuances. Long, tender, gentle aftertaste. Somewhat indeterminate, but a great pleasure to sip and appreciate the subtleties. Good plus.
Tim tallied up the group scores, which revealed some wild variations. One man's funky tertiary was another man's tired, bretty mess!
There was, however a strong consensus about the number one wine: 2002 Jospeh Drouhin.
As an apéritif, and with the first course, we enjoyed a magnum of 2010 Clos Blanc de Vougeot from Domaine de la Vougeraie (Boisset). This is a monopole, or exclusivity.
This premier cru, consists of 2.3 hectares of vines (95 % Chardonnay,  4 % Pinot Gris, and 1 % Pinot Blanc) on the middle of the slope. White wine has been made here for centuries.
This 2010 we had featured a brilliant medium gold color and a nose that turned some people off because of the new oak. While this was strong, I felt that it was nevertheless attractive and that the vanilla nuances will blend in more with age because the wine clearly has some way to go yet. It was very sensual, melt-in-your-mouth Chardonnay and I enjoyed it.
Had I been better organized, I'd have plotted the vineyard holdings of each of the domaines within the Clos on a map, but I'm afraid I didn't really have the time to do my homework there…