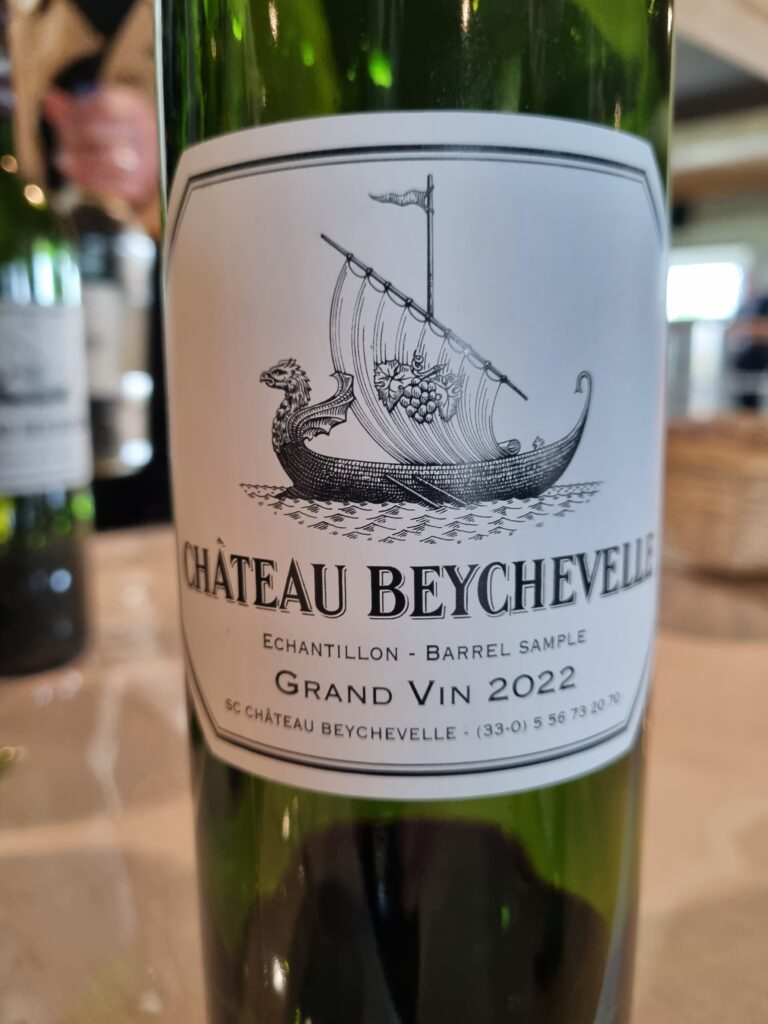 Beychevelle
N : Classic Médoc nose reminiscent of blackcurrant cordial. Good oak and shows great potential.
P : Dynamic, with great acidity, and avoids any chunkiness. The terroir unquestionably comes through here with a medium-fine velvety texture on the finish. The oak is overly prominent at this stage, but there is clearly the stuffing for this to integrate over time. Altogether, this is a big wine, but one with a great deal of class. Lovely medley of candied fruit on the aftertaste.
Good to very good.
Branaire Ducru
N : Soft with a touch of cedar with underlying Médoc fruit
P : Round, full, fresh Cabernet falvours with an elegant lift. Slightly dilute on the middle palate before going into a good fresh aftertaste of medium length. Somewhat chunky. No flaws here, but nothing special either.
Good.
Ducru Beaucaillou
N : Dense, subtle bouquet rather closed and a touch musty at this time.
P : Much more expressive on the palate. Concentrated black fruit flavors with a flawless development on the palate, i.e. a great follow-through into a wonderful aftertaste. Roundness into a super classic finish. Unquestionably a great vin de garde.
Very good.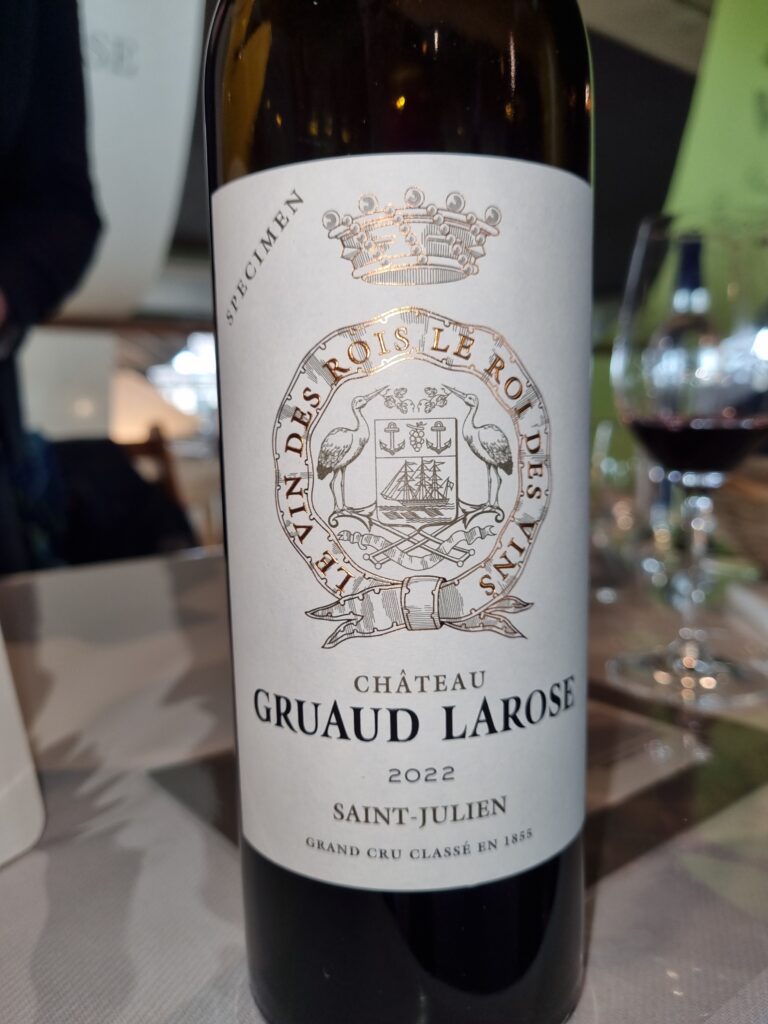 Gruaud Larose
N : Very closed at this time, but with aeration reveals attractive notes of Saint Julien terroir with dark fruit that will surely become more expressive with age.
P : Really chunky – but not clunky! Big wine that falters a little on the middle palate, but rallies with a strong, very tannic aftertaste that needs time to soften.
Good
Lagrange
N : Bright berry fruit with a touch of caramel from the oak. Penetrating and a little spirity. Pure and primary, but promising.
P : Great acidity with raspberry flavors. Not especially rich or long, but satisfying with a velvely tannic finish that is just a little short.
Good
Léoville Barton
N : Textbook nose with slightly cosmetic sweet cassis perfume. Superb bouquet. Just the right amount of oak.
P: The austerity of Cabernet Sauvignon, overruled by ripe juicy fruit and a fine structure that somehow avoids rigidity. Long finish with a soft grip.
Very good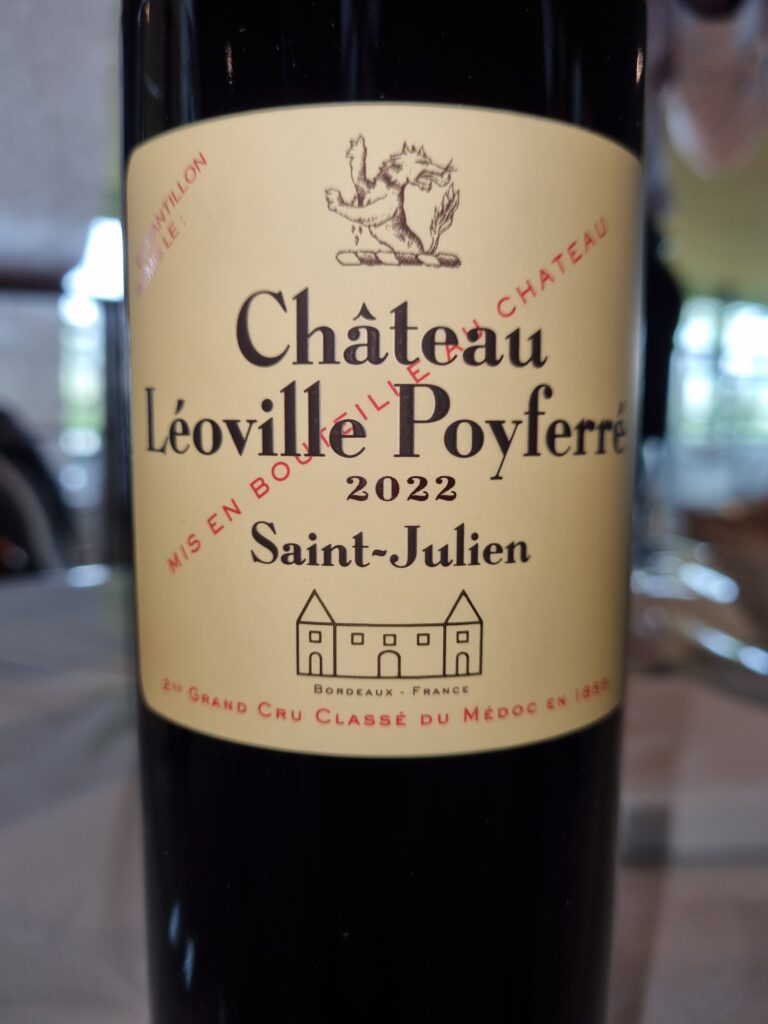 Léoville Poyferré
N : Ripe, deep, and full of promise with licorice nuances.
P : Packed with fruit but maintains elegance and balance. Hedonistic, but stays within the framework of classic claret. Wonderful medium-long aftertaste. Superb Cabernet and an example for the New World.
Good plus to very good.
Saint Pierre
N : Deep, dark, underlying berry aromas that are rather simple at this stage.
P : Natural fruit flavors not overshadowed by oak. Fresh acidity and good texture. An elegant rather than a strong wine to enjoy on the young side. Slight menthol overtones on the finish.
Good.

Talbot
N : Ripe Cabernet nose with a hint of mint and blackcurrant leaves along with some earthy notes and vigorous berry fruit.
P : Fleshy, big, very juicy. An archetypal Saint Julien and a joy to lovers of this appellation. Medium-long textured finish. Delicious.
Good to very good
PAUILLAC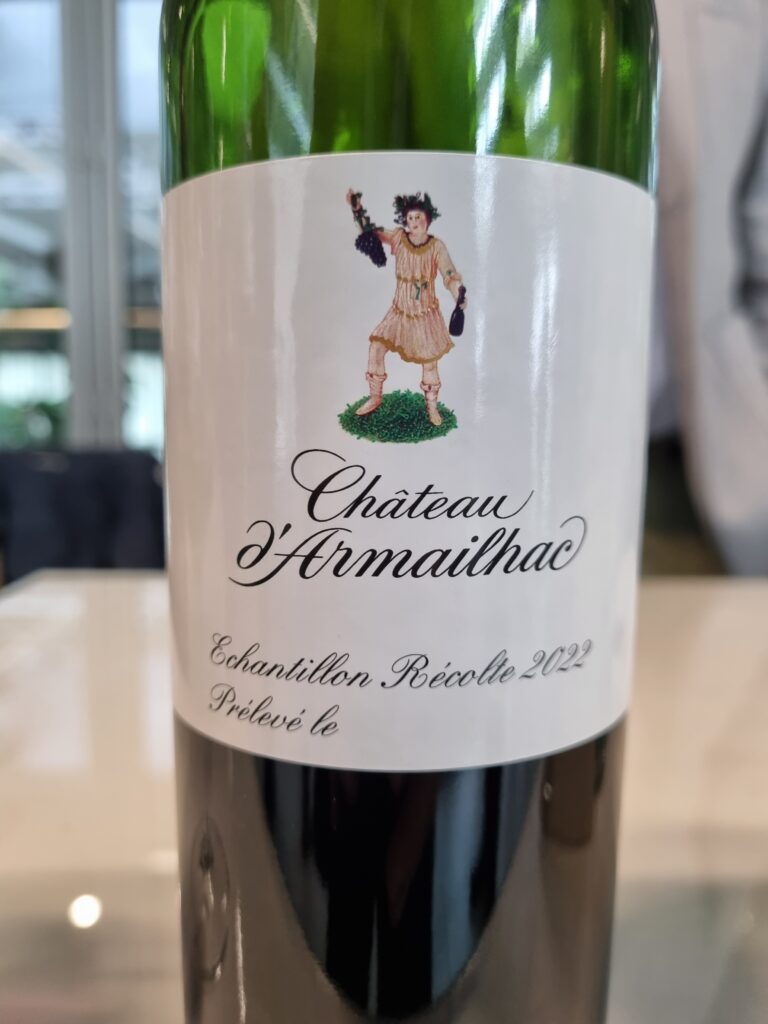 d'Armailhac
N : Fine bouquet redolent of cassis and cherry;
P : Excellent fruit, but lacks focus at this stage. Some gas in the sample. Not the best time to taste the wine, but it deserves the benefit of the doubt in light of past track record and intrinsic underlying quality.
Good.
Batailley
N : Fine nose of blackcurrant and cherry.
P : Excellent fruit, but the wine is unfocused at this time and the sample has a bit of gas. Knowing this wine, it definitely deserves the benefit of the doubt.
(label in honor of Queen Elizabeth)
Good.
Clerc Milon
N : Discreet, closed-in, needs time. Some black pepper overtones.
P : Forward, attractive, rich, bright, a delicious medley of red fruit. Soft for a Pauillac. Classy and will show well even quite young. Elegant sophisticated aftertaste.
Good plus.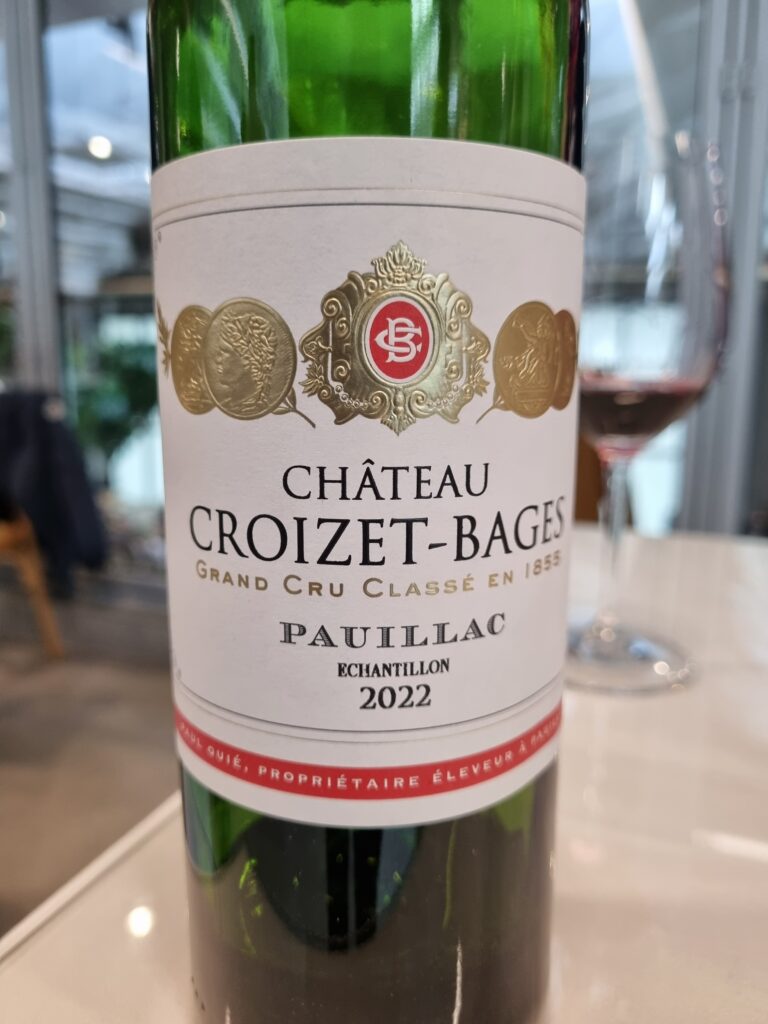 Croizet Bages
N : Toasty oak and caramel, with muted red fruit.
P : Much more expressive on the palate, with forest fruit, good body, and attractive follow-through. Solid performance for this wine that has often been criticized in the past.
Good.
Duhart Milon
N : Precise and well-defined, but closed. Underlying cassis and berry aromas.
P : Medium body with some hardness to show that this is a serious wine, belying the initial impression of one that is too fluid and easy-going. Svelte, with velvety tannin on the classy finish. That having been said, this is too much on the slim side.
OK.
Grand Puy Ducasse
N : Pencil lead overtones with some subdued spice aromas. Really too closed to evaluate properly at this time.
P : Narrow spectrum of flavors and with a simple linear development on the palate. Refreshing, but lacks richness and breadth. Pales in comparison with others. Slight weediness.
OK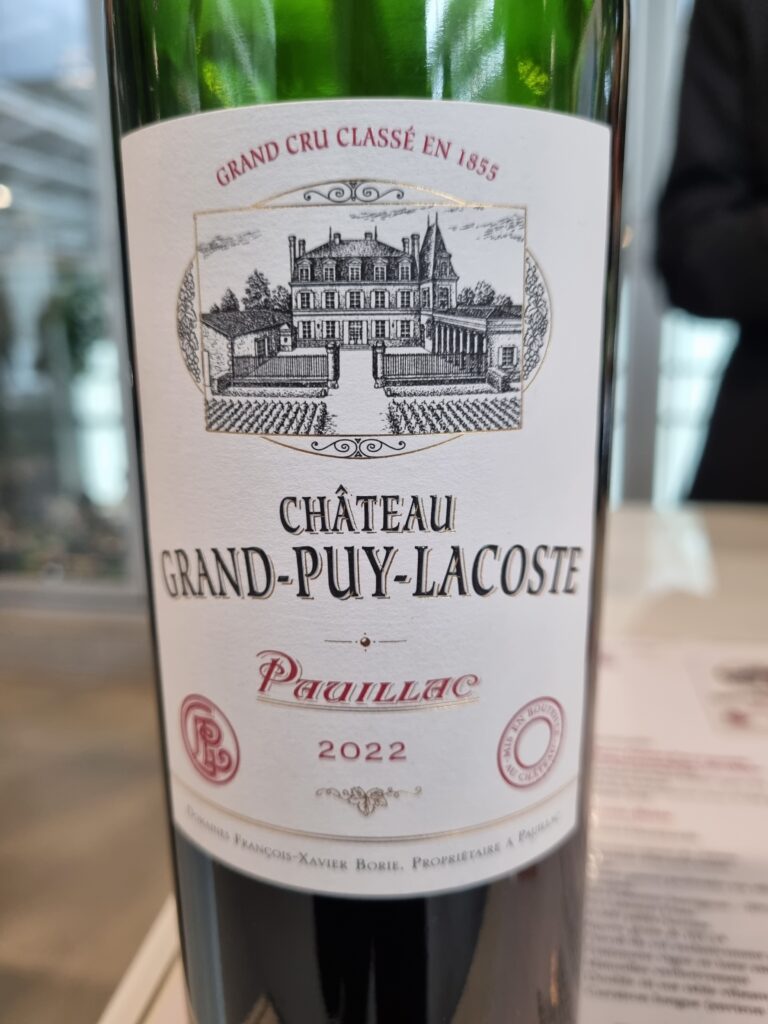 Grand Puy Lacoste
N : Sweet, open, and fresh bouquet along with good oak and ethereal blackcurrant aromas.
P : Faithful to château profile. Very unctuous, but not overly so. Tangy and appetizing. Great fruit and polished tannin on the long finish.
Good plus

Haut Batailley
N : Tad herbaceous, but also some dark chocolate and discreet black fruit.
P : Sinewy and lively with loads of fruit. Should develop very well with age. Great aftertaste as well. Spreads out beautifully on the palate with blackcurrant, blackberry, and other black fruit flavors.
Good plus.
Lafite Rothschild
N : Lead and trademark violet aromas.
P : Lots of juicy fruit and fine acidity. Fabulous potential. Medium heavy mouth feel with enough restraint and structure to show that this is a wine worth of serious ageing. Silky texture and flawless progression on the palate. Great length with a soft velvet aftertaste. The balance is such that this Lafite will be a joy very young, or in 50 years. On the whole, a feminine style.
Very good
Lynch Bages
N : Serious ripe berry (cassis) bouquet with a floral element. Ethereal brambly quality with some cedar aromas.
P : Very mouthfulling, but remains elegant throughout. A superb Lynch Bages with lively acidity continuing into a very long aftertaste. High quality tannins conducive to the long haul. Quintessential Pauillac with a floral aspect (blossoms) reappearing on the tail end.
Very good;
Lynch Moussas
N : Sweet and simple bouquet.
P : Starts out by melting in the mouth and then reveals lots of acidity. An old-fashioned style. Good, long, and refreshing with some toasty oak. Worth looking into this wine's future development. Very fruity and austere in a good kind of way. Quite long aftertaste. Unexpected quality.
Good plus.
Mouton Rothschild
N : Rather closed, but in line with the superb aromas of classic Mouton.
P : Big mouth feel with noticeable oak. Tremendous length. While the oak blurs the wine's considerable fruitiness, that is not surprising since this vintage will take a good twenty years and more to come around. As fine as Cabernet gets in Pauillac. Undoubtedly one of the best 22s tasted.
Superlative.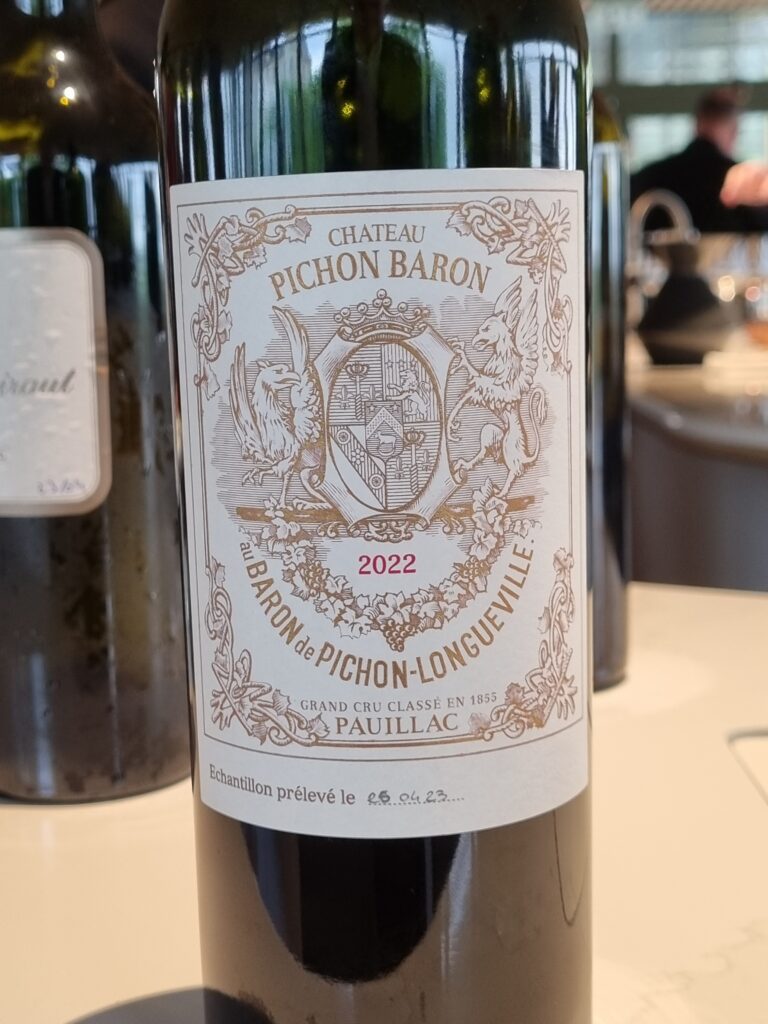 Pichon Baron
N : Monumental with "old library" aromas
P : Medium-heavy mouth feel. Brambly as usual with textured tannin. A masculine expression of Pauillac. Tannin coats the teeth and the wine features refreshing acidity. Velvety finish with a long aftertaste of black fruit along with minerality.
Very good.
Pichon Comtesse
N : Gorgeous seductive nose with berry and roast coffee bean overtones.
P : Round, fresh, and delicious. Open, with a floral component and an altogether sensual flavor profile.
Very good.
Pontet Canet
N : Rather subdued at this stage, but showing hints of anise and violet. Slightly spirity along with notes of toasty oak.
P : Fleshy and fresh, with a fine texture. Concentrated, strong tannin accompanied by candied fruit flavors, especially strawberry and blackcurrant. Resonant blackberry overtones. Strong, but elegant with a very long aftertaste.
Very good.
SAINT-ESTÈPHE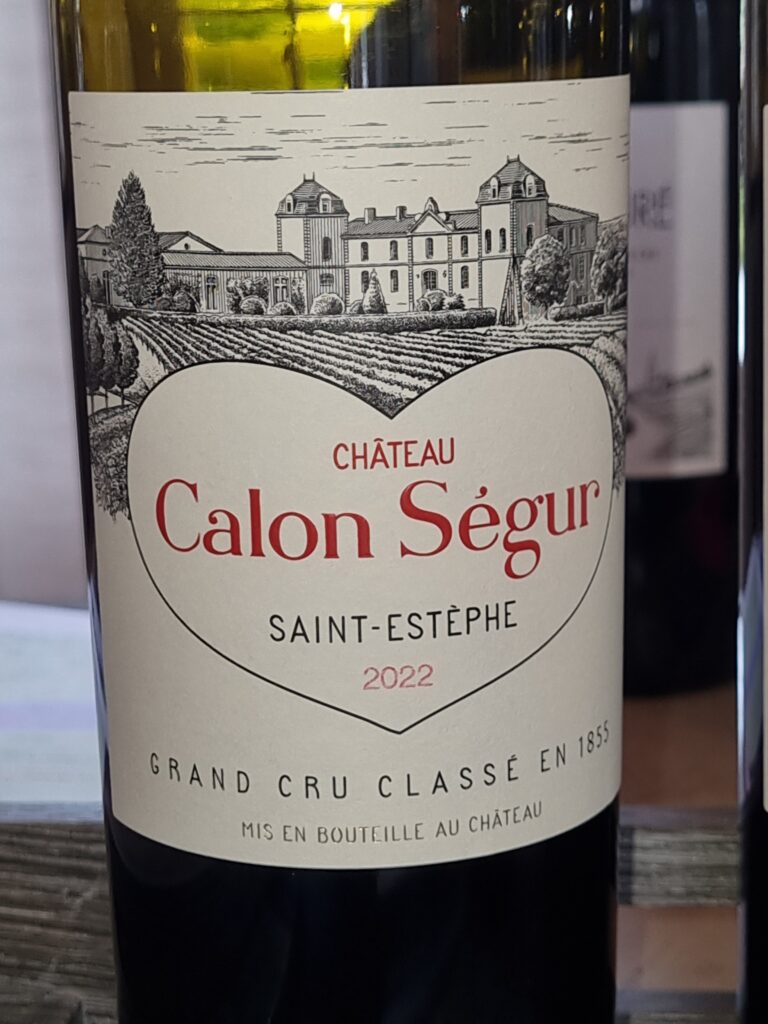 Calon Ségur
N: Unexpressive at this time, but classic aromas in the background waiting to emerge.
P: Starts out very plus with plush tarry flavors and somewhat unrelenting, but classy tannin. Tightly wound and very well-structured. Extremely long aftertaste and a great future ahead.
Good plus to very good.

Cos d'Estournel
N: Ethereal fruit with seductive cherry and violet nuances.
P: A toned-down more sublte wine compared to some past vintages of Cos and the terroir's proximity with Lafite comes through more than ever here. Candied fruit there, but the wine is not confected. Fine velvety aftertaste. Classic.
Very good
Cos Labory
N: Very little oak influenced. Uncomplicated and unremarkable fruit aromas.
P: A little rough, with harsh tannins and fairly acidic. Lacks finesse. Solid and vinous, but not much else there. It was just announced that Michel Reybier of Cos d'Estournel has just acquired the estate and I'm sure we will be hearing much more about it in the near future.
OK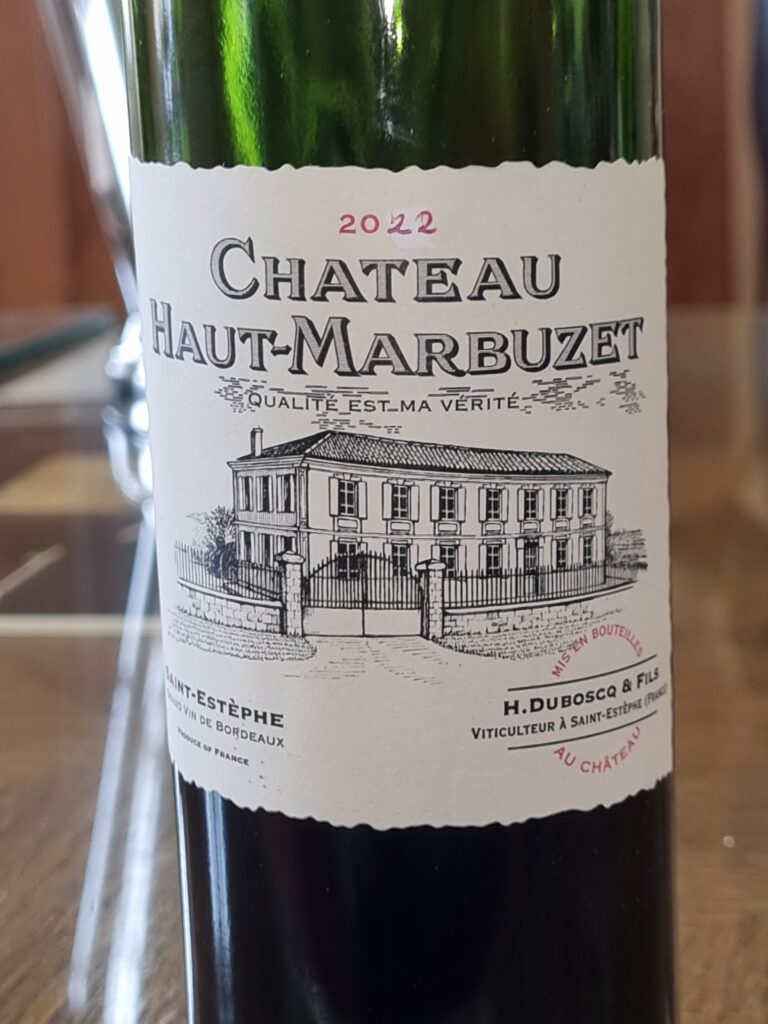 Haut Marbuzet
N: Ripe fruit, but revealing little depth or complexity at this time.
P: Sweet fruit flavors, especially raspberry coming through. Strong wine typical of its appellation and in no way overoaked or with a dry finish as in some past vintages.
Good.
Meyney
N: Closed at this time, but promising.
P: Fresh with fine ripe fruit flavours. A crowd-pleasing sort of wine with high-quality textured tannin on the finish. The sort of wine that is very enjoyable young or old. I preferred this to cru classé Grand Puy Ducasse belonging to the same owners.
Good.
Montrose
N: Lovely subtle cherry-vanilla aromas combined with a touch of herbaceousness and a musk.
P: A big wine with lots of oak. This shows every sign of a very promising future and will need years before all the components meld, but the intrinsic balance is clearly there. Rich, full-bodied, very promising wine.
Very good.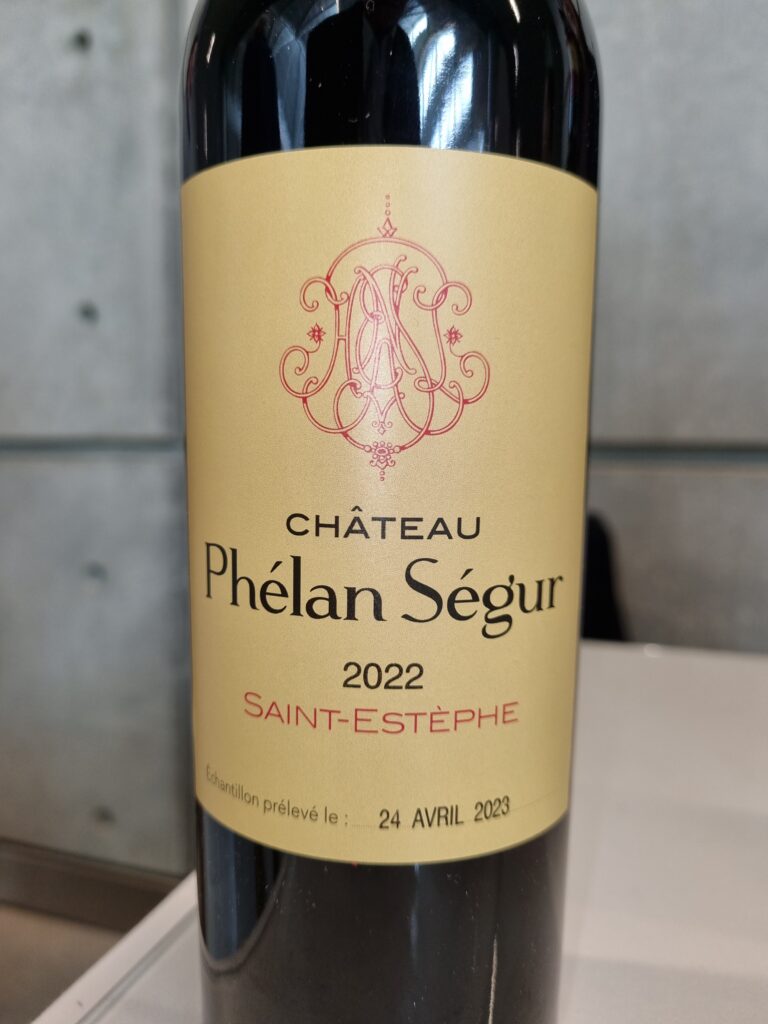 Phélan Ségur
N: Dark fruit aromas. Still rather closed.
P: Lovely flavor profile. Starts out quite round and melts in the mouth then goes into mineral mode. Good acidity with oak in check. This wine's recent fine record is maintained. Olive nuances on the aftertaste. Belies the merely "foursquare" and solid reputation of Saint-Estèphe thanks to its elegance. Grand cru level for sure.
Good plus